If you are having trouble viewing this email please visit http://www.shesheme.com/style.htm Please remember to add shesheme@shesheme.com to your Address Book to ensure that you continue to receive emails to your inbox.
Fall Wardrobe Basics
I am so excited! My boss just told me that I have been selected to work on a special project in our offices in Chicago! Apparently, I am just what they need for this project: smart, witty, stylish, and divinely beautiful. Yup. I'm pretty sure those were the only qualifications. I don't know how long I will be there because the project apparently has no time frame — so I must prepare for any number of weeks.
Suddenly, I had visions of myself: walking home in my favorite boyfriend jeans, a sweet and airy scarf and lovely platforms, clutching the September magazines, the fall air whipping through my hair. Sigh. Well, that may be my reality soon, but right now I am walking along a hot sidewalk, trying not to sweat on my precious magazines, and dreaming of the AC waiting for me at home.
What should I pack?! Okay, not much room for superfluous stuff. I must only pack the essentials. I can do that! My favorite thing is fall basics! Usually that means a whole new wardrobe, but I don't mind! It's gonna be great! While in some places, fall is still quite summery, fall in Chicago is very fall! Brisk winds contrasting with warm sunshine, cooler temps and possibly crazy weather — did I mention that I'm excited? Think of all the outfit possibilities!
As I pack I'll have to bring pieces to mix and match so my wardrobe will take me through weeks of work, shopping, and exploring! Thankfully, I've been studying the September issues for weeks now.
Here we go; I like to start with bottoms. Must haves for fall are three-fold:
Flares: 70's inspired means high waist (good for tucking in the tummy, I say). Flares can be found in corduroy, jean, twill, you name it. Try this fetching pair with a soft blouse and platforms. I just bought these guys, and they have the honor of being the first to be placed in my suitcase!
Cropped Trousers: Recently She She discussed the most wearable trends for fall. Needless to say, the cropped trouser didn't make the cut. "The cut." Hehe, I just crack myself up sometimes. If you are a bit worried about how to pull off this style, just play with your footwear. Try flats, heels, boots, tights, or socks with booties, and go forth with confidence! Cropped trousers are a delightful way to add playfulness to the work week. Welcome to my wardrobe Mr. Cropped Trouser!
Midi Skirt: Some scoff when I say "midi" but if a skirt can be a "mini" or a "maxi" it can certainly be "midi"! The midi-skirt oozes femininity. Hitting between the knee and mid calf, most reputable skirts are A-line, full, or pencil, and have a great weight and feeling to them. A light wool midi skirt will be just the ticket for the fall season. This one is coming with me to Chicago. Oh — and maybe this one too!
Now that my bottom half is appropriately attired, on to the top!
Tie-Neck Blouses: Well, here we go again, being all lady-like. The tie-neck is gorgeous and refined without being too pretentious. I wear it with gorgeous studs or drop earrings. Nothing too dangly or breezy please. Let the tie and blouse do all the breezing around. This top works wonders with a midi skirt, the cropped trouser, and the flare pant!
Blazers and Cardis: While blazers and cardis are nothing new, they certainly aren't shameful and they are so essential for fall. The cardi is a perfect layering piece. My intent is to use my varsity sweater with my flare jean, my cropped sweater over a button down with my trousers, and a ¾ length cardi with my midi skirt.
I'll need one good blazer or light fitted jacket. Something that makes me look professional and slightly preppy. I won't forget a jacket (or hair) accessory to perk it up a bit, and cause admiring glances on the L. (Right? The L? Must do more Chicago research.)
Summer to Fall: I don't know if you remember, but I invested a lot of time and love into my summer wardrobe, and I'm not willing to give it up yet! Enter the striped shirt. Pair it under one of the aforementioned cardis, and you are good to go. I also love layering summer camis under blazers and wearing them with jeans and cute boots.
Outerwear: While I may not be there long enough to need a good winter coat, it doesn't hurt to think about one! A cape, perhaps? This one is so cute! I love the arm slits. If I buy a cape, I'll have to bring a satchel. A cross-body bag simply wouldn't do with a cape! Or should I get something a bit more rugged? I can make rugged look cute. Hmm… so much to think about.
Well, the packing is almost done. I may need to hit my keyboard and buy a new piece or two. Maybe I'll have it delivered to my new locale: Chicago!
Happy Shopping!
Shop Girl
P.S. I just discovered Sole Society and I am hooked! Amazing shoes chosen especially for you and your own personal style! Check it out - you're gonna love it!
---
She She Me & Shop Girl's Favorite Things
---
Pan Am Style!
This fall, the glamorous flight attendants of Pan American Airlines take to the small screen in ABC's new series, Pan Am. The chic 1960s style seen on set has already captured the attention of today's top fashionistas. Luckily, for fans of these demure fashion trends, Kohl's offers shoppers similar classic, but modern, silhouettes and stylish accessories to affordably send your readers back to the 1960's skies. For more fall fashions, please visit kohlsfallcollections.com or Kohls.com.
Melonie Floral Pleated Dress - $120.00
Suite 7 Wavy Mixed-Media Dress - $80.00
Dana Buchman Sheath Ponte Dress - $90.00
Melonie Geometric Pleated Jacquard dress - $100.00
AB Studio Pleated Gored Dress - $60.00
Suite 7 Floral Pleated Empire Dress - $70.00
Melonie Floral Embellished Dress - $120.00
Jennifer Lopez Marilyn Belted Satchel - $95.99
Apt 9® Tassel Satchel - $59.00
Candie's® High Heels - $54.99
Apt. 9® Peep-Toe Dress Heels - $31.99
---
DEFY Damage with NEW L'Occitane Aromachologie

The summer elements can wreak havoc on your tresses – L'OCCITANE has the solution. These new Aromachologie Hair Collection products (launched August 1st) are formulated with pure, natural essential oils, the products combine nature-derived benefits, evocative scents and rich textures for hair care as efficacious as it is pleasurable. With new additions to the collection—Repairing Smoothing Gloss and Soothing Concentrated Mask—as well as newly reformulated Volumizing Shampoo and Conditioner, L'OCCITANE offers even more ways to indulge the senses while replenishing hair.
| | |
| --- | --- |
| | NEW Repairing Smoothing Gloss ($24): The first Aromachologie Repairing product to offer styling and smoothing benefits, this conditioning gloss protects against overdrying, heat damage and breakage, smoothing and straightening hair for a shiny finish. Essential oils of angelica, lavender, geranium, ylang ylang and sweet orange nourish as corn starch provides a smoothing effect and strawberry alpha-hydroxyacids increase shine. Apply to the lengths of wet hair to protect, smooth and control; apply to ends of dry hair to smooth and define curls. The gloss leaves hair manageable, smoothed, deeply repaired and ultra-glossy. |
| | NEW Soothing Concentrated Mask ($24): This purifying, moisturizing mask soothes and protects sensitive scalps, easing irritation and rehydrating. Relaxing essential oils of chamomile, mandarin, cedar, basil and lemongrass work with allantoin and alpha bisabosol to calm the scalp as salicylic acid purifies and panthenol moisturizes. The formula restores skin's natural defenses against damaging environmental stresses, improving scalp barrier function. While hair is damp, massage the mask onto the scalp in sections to relieve tension and activate microcirculation for healthier hair. Apply the Soothing Conditioner to ends simultaneously if desired. |
| | NEW FORMULA Volumizing Shampoo ($18): This silicone-free shampoo weightlessly restores hair's volume and shine, effectively strengthening and thickening. A five essential oil complex of artemisia, petit grain, sweet orange, rosemary and palmarosa replenishes and conditions hair as corn starch accentuates volume at the root, and a foaming vegetable base creates space between hair to enhance the volume effect. |
| | NEW FORMULA Volumizing Conditioner ($18): L'OCCITANE's five essential oil complex of artemisia, petit grain, sweet orange, rosemary and palmarosa nourishes hair as glycerin moisturizes the scalp and panthenol softens. The conditioner leaves hair stronger, thicker, volumized and easy to detangle. Free from silicone, the formula won't weigh hair down. |
---
Jockey Person to Person
Shopping for jeans that fit perfectly can be frustrating. Before you head to the dressing room yet again, follow these guidelines from Senior Designer for Jockey Person to Person, Sunil Ramchandani to help you find your perfect denim (without all the bells and whistles.)
1. Fabric: A poly cotton blend will help retain the shape and color much longer. Hand washing will allow the material to last much longer as well. A mid weight, 8 to 11 ounces per yard, will be perfect for year round wear.
2. Fit: The waist should have enough room to fit one finger in between the pants and yourself and the denim must be fitted through the thigh and knee. The rise should be 1" below your belly button but no more than 3".
3. Length: If you are wearing flats, your jeans should touch the floor. With heels, the pant leg should be ¼" above the floor on your back heel. Make sure to have separate pairs to wear with heels and flats.
4. Leg Shapes and Body Types: Bootlegs work best on Pear and Hourglass body shapes. Straight legs work best on Apple and Pencil body shapes. Wide legs work best on Strawberry shapes.
5. Camouflage Your Flaws: If you have a slight belly, you should go for a stretch fit and wear it with longer length, un-tucked boots. If you have a large bottom, go for a slightly lower rise with simple back pockets. Big Hips, the boot cut is your friend as it will help rebalance your figure.
Be sure to check out the Jockey Person to Person denim collection and remember you have to feel good in your own skin in order to look great in a good pair of jeans!
Jockey Person to Person® is one of North America's premier direct sales companies offering extraordinary women's apparel and accessories, created for today's on-the-go woman. To find out more, visit JockeyPersontoPerson.com http://www.JockeyP2P.com/.
---

Get the Look:
Backstage Hair by Leonardo Manetti and Solano
at Jenny Packham Spring/Summer 2012!
images by Mark Von Holden
Backstage at Jenny Packham, a team of 14 hairstylists created a sleek, upscale, modern look that was meant to be a variation on last year's style said stylist Leonardo Manetti. The show featured straight, shimmering strands that were free-flowing and "looked as if hair is in a breeze after the storm." To create the look, Leonardo was sure to use a powerful dryer, shine inducing brush, and attended to last minute touch ups with a flat iron, all from Solano.
To compliment the beautiful beadwork and flowing fabrics seen at Jenny Packham, Leonardo chose a simple style that wouldn't distract from the elegance. Get this chic look at home with these step-by-step instructions:
Start by separating hair into sections and blow drying with the Solano 3700 Moda Dryer ($220) which uses tourmaline, ionic, and far-infrared technology to increase shine and overall hair health. Per Manetti, "As you blow dry each section, marry the newly dried section to the previous one for a sleek and smooth look."
Once at the ends of the hair, hold the Solano 53mm Plasmium Gel Grip Round Brush ($23.99) in place for a few seconds. The ceramic technology in the brush acts as a hot tool to give hair a slight bend at the end for more movement.
To finish the look, create a side part 1 ¼" from the beginning of your right brow and straight back to the crown. Smooth flyaways and lock in the sleek style withSolano SleekHeat 450 Flat Iron ($159.95).
Solano 3700Moda Dryer is available at major beauty distributors and www.solanopower.com.
Solano Plasmium Gel Grip Round Brushes and SleekHeat 450 Flat Iron are available at ULTA and Ulta.com
---
Meet the NEW Ann Taylor in Stanford
In case you haven't heard, there is a NEW Ann in town! Ann Taylor is celebrating the grand opening of new Ann Taylor concept store opening at the Stanford Shopping Center in Palo Alto. The grand opening will be celebrated with an in-store shopping event for clients and the public in partnership with Harper's Bazaar on Saturday, September 17 from 1-5 p.m., including a live DJ, refreshments, sweets, raffles and a gift with any purchase over $100. A private co-hosted by San Francisco Magazine to celebrate the opening will follow on Thursday, October 13.
Designed in partnership with S. Russell Groves architects, the new Ann Taylor boutiques are inspired by a stylish modern contemporary home and provide a more intimate shopping experience that is chic, warm and inviting. The residential influence is brought to life through white washed maple hardwood floors, luxurious crystal chandeliers, modern tufted furniture and sleek feminine fixtures inspired by the ultimate closet. Wardrobing niches allow for stronger fashion stories as well as a broader assortment of product than other Ann Taylor stores. Decorative items add the finishing touch with an assortment of fashion books, jewelry vitrines and framed images on display throughout the space
Special attention was also given to the design of the new styling rooms which feature unique floral wall coverings, luxe ottomans, plush carpeting, and a new proprietary lighting system with flattering back lit mirrors. Adjacent to the styling rooms is a private lounge area featuring an oversized touch screen monitor that provides access to anntaylor.com. The immediate access to the brand's website allows clients to view and order the complete product assortment outside of what that particular store may carry – including additional fashion and wear-to-work styles, a broader assortment of shoes and petites, and online exclusives such as tall sizes and a Weddings and Events collection. Curated fashion presentations and expert styling services add to the new store experience and make shopping easy. The key fashion message is complemented by shop-in-shop destinations including the Career Chic shop, a petites shop and an accessories shop. Dedicated stylists are also on staff and available for both walk-ins and appointments to help clients put together perfect individualized looks for any occasion.
---
IT'S ALL ABOUT THE DRESS
In her new book praised by Anna Sui, Gael Greene and Diane Johnson, fashion designer Vicky Tiel embodies the idea of living large. Whether designing for Hollywood starlets or the scores of women who have flocked to her Parisian shop and exclusive boutiques in Bergdorf Goodman and Neiman Marcus, Tiel dresses women with one goal in mind — to make them look and feel great in their curves. In her candid — and, at times, cheeky — memoir, IT'S ALL ABOUT THE DRESS: What I Learned in 40 Years About Men, Women, Sex and Fashion (St. Martin's Press; August 18, 2011; hardcover), Tiel shares her wild ride to the heights of couture. Might I send a copy your way for consideration?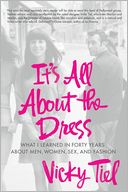 Part Hollywood tell-all, part fashion how-to, and part lifestyle handbook for achieving that "je ne sais quoi," the book — like Tiel's life — is truly one-of-a-kind. Upon graduating from the Parsons School of Design in 1964, she took Paris by storm with Mia Fonssagrives, daughter of model Lisa Fonssagrives and stepdaughter of photographer Irving Penn. The twosome created a craze with Vicky's lace bustiers, hot pants, and a little something new called the miniskirt. Her sexy designs caught the attention of Woody Allen, who hired her as a costume designer on his first film, What's New, Pussycat, inviting her into the world of Hollywood royalty. Over the next forty years, Tiel's dresses have been worn by everyone from her dear friend Elizabeth Taylor to Goldie Hawn, Halle Berry and Kim Kardashian.
"Growing up in the suburbs of Detroit, I remember reading an article in Life Magazine about two girls who graduated from Parsons School of Design in New York and moved to Paris, where Elizabeth Taylor and Richard Burton opened a boutique for them. This fantasy fueled my dream. Vicky Tiel was my original inspiration!"
—Anna Sui, designer

"Not even the most resolutely stern reader will be able to resist this feast of Hollywood gossip, fashion advice and racy recollection by the noted designer Vicky Tiel, who knew Marilyn and Marlon, was the inventor of notable trends like miniskirts and jumpsuits, and is a natural and funny writer who tells all. Delicious!"
—Diane Johnson, author of Le Divorce

"A naughty girl when that was the best a girl could be, inventor of the mini, Paris couturier at 18, Vicky Tiel tells spicy tales from dressing Kim, Ursula and Miles Davis, teasing Woody Allen, staying up late with Princess Grace and more intimate than you thought you'd want to know from her years in the entourage of Liz and Dick. Comes complete with tricks you need: bedroom advice, supermodels' diet guide, how to get men to give jewelry and the recipe for a perfect pink tunafish sandwich."
—Gael Greene, author of Insatiable: Tales from a Life of Delicious Excess
---
Curl Casting Call
New York City
Ouidad is calling all want-to-be curly hair models to the Flagship salon in Manhattan. The curl experts are recruiting female models with wavy or curly hair for upcoming stylist training sessions to take place on September 18th, September 19th, October 9th and October 10th, 2011.
Benefits of being a Ouidad hair model?
Free haircut and styling
All services are performed by stylists under the supervision of a professional Ouidad Educator
Each stylist will design a suitable style based on models unique features
Women models are welcome and must be 18 years of age to apply
The training sessions will take place at the Ouidad Salon and Curl Education Center located at 37 West 57th Street, 4th Floor.
Models interested can visit http://www.ouidad.com/salon_locator/hair_model_info.asp and apply today.
---
Don't miss the Ask She She Blog!
This is where She She Girls go to find the latest styles and the hottest trends; where your fashion, beauty and lifestyle questions are answered, and the thoughts, ideas and comments of all She She Girls are encouraged and welcomed!