If you are having trouble viewing this email please visit http://www.shesheme.com/style.htm Please remember to add shesheme@shesheme.com to your Address Book to ensure that you continue to receive emails to your inbox.
Happy Shoe Season!
Every once in a while I have the urge to try a new refreshing and fruity drink at one of the local restaurants near my work. Only every once in a while.On Thursdays. Every week. At 3:30. It's not an addiction! It's a beautiful tradition! Every Thursday I hop up from my desk, and depending on my current footwear, change into something more street appropriate, or just hit the streets with my wedges, and go to a previously appointed establishment (I may or may not have a spreadsheet) and order my mid afternoon pick-me-up full of unnecessary calories, but filled with très nécessaire joy and mental relief. Plus, it does me good to pass by the simply adorable young security guard outside my building. Eye candy is completely calorie free, so this weekly outing is certainly not a total indulgence.
Well, last week I tried this place that serves up blackberry mango lemonade with crushed ice. Say What?! Oh, it was delish! I thanked the lady behind the counter, and turned to the door when I saw him. Oh he was gorgeous. Perfect hair, possibly chiseled body (I don't know for sure, I was feeling swoony, so I could be wrong), fabulous aviators, slim fitting deep blue polo (I am a sucker for the preppy look), tan trousers, and eek! Dirty, torn, ratty tennis shoes. Seriously? I had never before seen anything so horrendous! Especially on such a work of art.
I gasped in horror. He took my gasp as a sign of admiration, smiled at me, and said, "Hello." Normally I would speak, but I had the fresh memory of those terrible shoes still burning my retinas. He took off his sunglasses, and he turned his warm, comforting, brown eyes to mine, melting me on the spot. Sigh…
Okay.

Remembering my flirting training (never pass up an opportunity!), I looked him in the eye, and shot him what I'm certain was a charming smile. Forgetting my training, I babbled about how delicious the blackberry mango lemonade was, and how I certainly recommend it, when I looked down at my drink and caught sight of those shoes again. Those shoes infuriated me! It was like a personal attack on who I am and everything I stand for! Doesn't he know about all the other shoe options available? Doesn't he know how to keep shoes clean, or when to toss them in the trash? I was getting upset. It was time to get out of there! With a somewhat distracted smile I excused myself, and started walking back to the office. In righteous indignation I began listing all the other fabulous shoe choices he could have worn with his outfit. I soon realized I didn't care so much about men's shoes, but more about women's shoes, and when I got back to the office I pounded out this list of the best shoe fashions for the coming season.

Boots: While I love love LOVE my gladiators as my summer go-to-can-wear-with-practically-every-outfit-shoe, I am very excited to replace my gladiators with boots. Mid-calf boots. Tall boots. Over-the-knee boots. Wedge boots. Low heel boots. High heel boots. I am simply boot crazy when it comes to fall! The fabulous thing about boots is their easy transition into winter. I love a western inspired boot, I love a motorcycle inspired boot, and I love a Pretty Woman inspired boot.

Platforms: Always say yes to a platform. Platforms come in all sorts of styles these days. It allows you to wear a higher heel without the imminent danger, they look fierce, and they suit this season's flare jean perfectly! I love this one, and also this one.

Menswear Inspired Oxfords, Loafers, and Brogues: Designers are making these shoes more feminine with increased heel heights, shiny finishes, and other sparkly details. I'm really loving a fitted jacket, short flirty skirt, and classy brogues right now. Or pair with a great harem pant and oversized top.

Embellished, D'Orsay, and Nude Heels: When I say embellished heel, I mean embellishment on the actual heel part. Pick up a pair of rockin' stilettos! So fresh, so fierce, so ready for a night on the town! Pair with last year's leggings, a fabulous top, and a sleek clutch. I think this would also be an appropriate time to clip a feather into your hair.

The D'Orsay is a fabulous style in and of itself, but try it with texture, colorblocking, and embellishments. Wear them out at night with cuffed shorts until the weather turns colder, and wear a classy pair to the office with a straight leg trouser and fitted button-down. I wouldn't be opposed if you even decided to pair them with a midi-skirt and tailored blouse.

Have you picked up a pair of nude heels yet? They elongate the leg (and the summer tan) and go with practically every outfit. Here. Buy these. See, wasn't that easy? And fun? I love shopping!

Flats: Of course! Lest you start to think fall is all about the heel, I am pleased to report that flats are still around, in one form or another. We have done animal print, we have done jewel embellishments, and this fall the focus is on bow embellishments! They are practically everywhere, and I am so happy to see it. I love a good bow. They look so cute peeping out of my bootcut jeans, or paired with my new jeggings. I can just imagine my next Thursday afternoon beverage excursion in a sweet pair of ballet flats!

Textures: Velvet is so hot, it instantly warms any chilled feet! Velvet is so sumptuous, sassy, and sexy I can't imagine why anyone wouldn't immediately buy themselves a pair of velvet heels. Velvet was made to be seen, so wear them with a stunning dress, stove pipe jeans, or a pencil skirt.

Don't forget about suede. There is only a short period of the year where a girl can pull off suede. Particularly in the footwear department. With suede we don't want to be in danger of winter snows, or spring showers, but fall! We are only dealing with leaves and a crisp wind or two, so bring on the suede before it's too late! Bring on the suede boot, the suede bootie, the suede heel, the suede wedge!

Jewel Tones: The best part of fall is the return to the jewel tones that complement my skin so nicely. I love to wear blouses and jackets in jewel tones, but this year I'm going to expand my jewels to my footwear selection. For some people, fall means a lot of neutrals. What better way to complete and polish off an outfit than with rich accessories? Try a burgundy shoe, a purple bag, or an emerald skinny belt. Interested in really packing a punch? Try this shoe that has the D'Orsay style, a platform, embellished heel, and jewel toned suede! It's the ultimate!

There! That feels better. See? There is simply no excuse for ugly footwear. It's fall! It's happy shoe season!

Happy Shopping!

Shop Girl

P.S. I just discovered Sole Society and I am hooked! Amazing shoes chosen especially for you and your own personal style! Check it out - you're gonna love it!
---
She She Me & Shop Girl's Favorite Things
---
IT'S ALL ABOUT THE DRESS
In her new book praised by Anna Sui, Gael Greene and Diane Johnson, fashion designer Vicky Tiel embodies the idea of living large. Whether designing for Hollywood starlets or the scores of women who have flocked to her Parisian shop and exclusive boutiques in Bergdorf Goodman and Neiman Marcus, Tiel dresses women with one goal in mind — to make them look and feel great in their curves. In her candid — and, at times, cheeky — memoir, IT'S ALL ABOUT THE DRESS: What I Learned in 40 Years About Men, Women, Sex and Fashion (St. Martin's Press; August 18, 2011; hardcover), Tiel shares her wild ride to the heights of couture. Might I send a copy your way for consideration?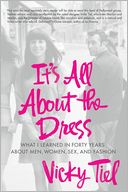 Part Hollywood tell-all, part fashion how-to, and part lifestyle handbook for achieving that "je ne sais quoi," the book — like Tiel's life — is truly one-of-a-kind. Upon graduating from the Parsons School of Design in 1964, she took Paris by storm with Mia Fonssagrives, daughter of model Lisa Fonssagrives and stepdaughter of photographer Irving Penn. The twosome created a craze with Vicky's lace bustiers, hot pants, and a little something new called the miniskirt. Her sexy designs caught the attention of Woody Allen, who hired her as a costume designer on his first film, What's New, Pussycat, inviting her into the world of Hollywood royalty. Over the next forty years, Tiel's dresses have been worn by everyone from her dear friend Elizabeth Taylor to Goldie Hawn, Halle Berry and Kim Kardashian.
"Growing up in the suburbs of Detroit, I remember reading an article in Life Magazine about two girls who graduated from Parsons School of Design in New York and moved to Paris, where Elizabeth Taylor and Richard Burton opened a boutique for them. This fantasy fueled my dream. Vicky Tiel was my original inspiration!"
—Anna Sui, designer

"Not even the most resolutely stern reader will be able to resist this feast of Hollywood gossip, fashion advice and racy recollection by the noted designer Vicky Tiel, who knew Marilyn and Marlon, was the inventor of notable trends like miniskirts and jumpsuits, and is a natural and funny writer who tells all. Delicious!"
—Diane Johnson, author of Le Divorce

"A naughty girl when that was the best a girl could be, inventor of the mini, Paris couturier at 18, Vicky Tiel tells spicy tales from dressing Kim, Ursula and Miles Davis, teasing Woody Allen, staying up late with Princess Grace and more intimate than you thought you'd want to know from her years in the entourage of Liz and Dick. Comes complete with tricks you need: bedroom advice, supermodels' diet guide, how to get men to give jewelry and the recipe for a perfect pink tunafish sandwich."
—Gael Greene, author of Insatiable: Tales from a Life of Delicious Excess
---
Glow With Grapefruit
What's the secret to keeping hair and skin naturally glowing? Grapefruit!
Pucker up your morning routine and get glowing with grapefruit! Hugo Naturals offers an easy way to give your skin the TLC it needs with the beauty benefits from super ingredient, Grapefruit. This popular citrus fruit is known for being a great source of anti-oxidants and Vitamin C.
---

Summer-Proof Your Beauty Routine with Avon
As the temperature soars, summer-proof your beauty routine with products that can withstand the weather. From smart SPF products to frizz fixes, Avon helps you stay cool from head to toe.
Everyone knows that daily SPF is a must. Now you can undo the effects of past sun exposure as you protect your skin from future damage with Avon ANEW Solar.
The result of 10 years of sunscreen research, ANEW Solar helps stimulate skin's natural antioxidant defense system and activate skin's natural repair process. The breakthrough technology protects skin's DNA with photostable broad-spectrum sunscreen and is designed to repair skin cell sun damage.
---
NEW! SEDU Anti-Frizz Polishing Treatment with Pure Moroccan Argan Oil
Formulated with pure argan oil, SEDU Anti-Frizz Polishing Treatment creates shinier, smoother, and
more polished hair instantly – all while protecting against heat. A must-have in your styling regime!
SEDU Anti-Frizz Polishing Treatment's unique formula combines pure Moroccan argan oil and other ingredients to instantly absorb into the hair shaft and provide multi-tiered benefits including:
frizz elimination
enhanced shine
heat protection
I adore this fabulous product! Not only does it keep my hair smooth and sleek in the most sweltering weather, but it gives my hair a healthy shine as well. The perfect summer fix!
---
Atopalm Daytime Undermakeup
Moisture Cream
Bring your dehydrated, stressed out skin back to life with Atopalm Daytime Under Makeup Moisture Cream. This unique, paraben free, Multi Lamellar Emulsion formula mimics the structure of natural skin lipids and aids in the replenishment of the loss of natural skin lipids in the stratum corneum. This cream also helps in the restoration of the skins' protective moisture barrier. When used under makeup, this moisturizer provides a cushion to allow smoother application and enhanced wear. When used without foundation, it provides ultra moisturization throughout the day, leaving the skin soft, supple and younger looking.
Vitamin E offers antioxidant protection while Allantoin soothes to support beautiful, healthy skin that allows your foundation and makeup to glide on easily.
---
Take a Staycation with Biologique Recherche
Who has time for a vacation? Between balancing works outs, friends and a career, there is barely any time to get away. Biologique Recherche has everything you need to take that luxurious spa getaway right at home with their revitalizing and rejuvenating skincare line. Made with high concentrations of botanical and marine extracts and the highest quality of active ingredients available, this high-end French skincare brand gives skin the vacation it needs!
First, exfoliate and tone using Lotion P50, an amazing vitamin-enriched exfoliating potion that gently purifies, hydrates, tones, controls sebum and balances the skin, and visibly improves the condition of your skin. To use, soak cotton with the appropriate P50 for your skin and apply on the face and neck.
Next, pamper your eyes with Crème Countour Des Yeux Biosensible to relax and soften the skin, while evening out complexion, and revitalizing the eye area. The eye cream contains soothing agents, anti-dark circle action, and anti-wrinkle action that can be used on all skin types, even sensitive skin. To use, dispense a quarter-sized amount and apply to the eye contour area.
Finally, treat your face to the luxurious Crème Dermo-RL. This is a reconditioning and repairing emulsion cream that works to maintain moisture and condition skin to act as a shield once again. It also replenishes deficiency in the skin's lipids and provides a comforting sensation immediately after application and throughout the day. Active ingredients include Blackcurrant Butter and Jojoba Oil.
---
Don't miss the Ask She She Blog!
This is where She She Girls go to find the latest styles and the hottest trends; where your fashion, beauty and lifestyle questions are answered, and the thoughts, ideas and comments of all She She Girls are encouraged and welcomed!