If you are having trouble viewing this email please visit http://www.shesheme.com/style.htm Please remember to add shesheme@shesheme.com to your Address Book to ensure that you continue to receive emails to your inbox.
Work to Weekend: Wardrobe Powerhouses for Fall
Despite what the talking heads say about the health of the economic recovery, the truth is that most of us haven't gotten a meaningful raise since the Clinton administration. And so it can put a bit of pressure on the savvy fashionista and her mad skillz to be seen in thrilling combinations in all places, at all times, when the pickings might be a little slimmer than she would hope for in a Sienna-Miller's-closet moment.
Fortunately, duckies, you have me. And I'm here to show you some fantastic ways to take totally justifiable purchases for your workwear wardrobe and funk them up (or down, depending on your destination) for your weekend festivities. Two birds – one stone. (And I'm giving some props to you road warriors, who already know a thing or six about smart packing and bang-for-your-carry-on-buck.) Away we go!
Start with a great suit: Blazers are EVERYWHERE this fall, so make sure when you choose a suit for work that the jacket is a versatile cut and length, like high- or mid-hip and single-breasted. Jazzy details like ruffles, bright trim, or gathers might make the suit more exciting, but cut down on versatility. Choose instead a really quality fabric, preferably lightweight wool in a neutral color like navy, grey, or black; it's okay to have a subtle pattern like a chalkstripe or a Prince of Wales plaid. If there are three or more pieces available (jacket, trousers, pencil skirt, shift dress), buy them all. It'll bring your total purchase price up, for certain, but will increase exponentially your wardrobe options. (IMHO, J.Crew has the most stylish, versatile suiting for the money.) Now, in addition to wearing the matching pieces together, you can use…
The Jacket With:
The Trousers With:
A drapey silk tee or tank and a long v-neck cardigan sweater, a great pendant, and suede or fabric oxfords for a casual-elegant workday.
A contrasting tweed or herringbone jacket – very Chanel -- and layers of chains.
A cable-knit crewneck cashmere sweater in a bright color, a white collared shirt with the tails hanging out, and classic white sneaks for a laid-back Saturday look.
The Pencil Skirt With:
The Dress With:
Other team players that make the transition from Work to Weekend easy:
The twenty-first century's greatest contribution to fashion, the mix of high and low, gives us almost carte blanche to mix trendy down-market pieces with haute classics, or to spice up an evening gown with a denim jacket. Take full advantage of this delicious freedom and mix and match to your heart's content!
Shop Happy,
Shop Girl
---
She She Me's Favorite Things
---
Enter the Relastin Ultra Emollient Facebook Contest
Relastin Ultra Emollient cream is amazing for fall/winter as the temperatures get cooler and our skin gets dryer. It is a more hydrating anti-aging cream than our light lotion, Skin Revitalizer. With added vitamins and minerals, it provides extra anti-aging effects you won't get from any other cream:
Visibly improves skin elasticity and firmness
Reduces the appearance of fine lines and wrinkles
Helps the body "kick start" elastin production
Encourages collagen production
Softens skin texture and tone
Hydrates and nourishes skin
Can be used under the eyes, too!
Enter the Relastin "Who Made You Laugh Last?" facebook contest. They say laughter is the best medicine. Give us your best answer by November 15th and you could win Two Relastin Ultra Emollients.
---
Best of Børn for Fall
I am in love with the fabulous fall footwear styles from Børn! There are so many gorgeous shoes and boots to choose from - luscious leathers and scrumptious suedes, adorable argyle prints and flirty flats, all in the rich vibrant shades of autumn. Check out a few of my favorites for fall:
---
CellCeuticals
Unfortunately, we can't stop the clock on the aging process, but younger looking facial skin is in reach with CellCeuticalsR. Try CellGenesisT to slow down skin aging!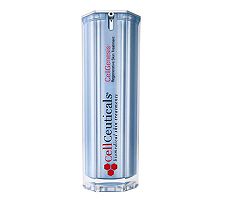 The CellCeuticalsR CellGenesisT Regenerative Skin Treatment is a super-potent night treatment with exclusive and patent pending GFP Cellular Complex technology that encourages the regeneration of new surface cells for visibly younger skin. The unique combination of retinol, antioxidants, and the next generation of lipopeptides has been proven to dramatically diminish wrinkles and leave skin looking and feeling firmer and remarkably radiant. The results are so amazing that 100% of women in an independent clinical study saw more resilient and smoother skin in just two weeks!

Get time back on your side and revive that beautifully young face today with CellCeuticalsR CellGenesisT.
---
Obagi ELASTIderm Eye Treatment
How many eye creams, lotions, gels and potions have women tried in an effort to rid themselves of crow's feet and undereye wrinkles? Too many! But the search stops now with Obagi. The ELASTIderm Eye Treatment products from Obagi Medical Products is a one of a kind topical eye treatment clinically proven to help restore elasticity to skin and reduce visible fine lines and wrinkles.
ELASTIderm uses a proprietary bi-mineral complex (Copper Zinc Malonate) which is proven to help restore elasticity and increase collagen production.
ELASTIderm Cream

is designed for those who have dry skin or live in a cooler, more arid climate.

ELASTIderm Gel

is designed for those who have normal to oily skin or live in a tropical or humid climate.
---
Avalon Organics
Lift Your Mood and Spirit With Ylang Ylang Oil. Extracted from the flowers of the Ylang Ylang tree, this essential oil is a key ingredient to sooth your both your skin and nerves. It is also known for adding a little sensuality to your life. Solve your everyday problems with organic Ylang Ylang oil found in Avalon Organics products.
Ylang Ylang is historically known to assist as an:
Antidepressant: It has an uplifting effect on mood and is said to relax the body and soul.
Eczema: Ylang Ylang can be beneficial in curing inflammation and peeling of the skin.
Aphrodisiac: The essential oil can really up the ante in the bedroom.
Sedative: This oil calms nervous afflictions caused by stress, anger and anxiety.
Ylang Ylang oil can be found in the following Avalon Organics hair and skin care products:
| | | |
| --- | --- | --- |
| Sooth your mind and body with Ylang Ylang Bath and Shower Gel | Replenish dry skin with Ylang Ylang Hand and Body Lotion | Get glistening shine and a sensual aroma with Ylang Ylang Shine Shampoo and Conditioner |
| | | |
---
Yogamatic.com
The groundbreaking Yogamatic.com is improving all types of Yoga Mats from texture, size, and allowing you to personalize your very own. In addition to yoga mats, Yogamatic also has yoga towels- a travel mat and yoga towel all-in-one useful, machine-washable and of course, customize-able option!


The yoga mats and yoga towels both measure 72" X 24"and have a sueded microfiber topside, printable edge-to-edge in full color, and is backed with an eco-friendly, recycled rubber texture that's compatible with most leading mat types. The yoga towel comes in it's own breathable pouch, and when folded is a mere 7" X 5" X 2", fitting neatly into your hand bag or carry-on luggage. The compact size is the yogi's perfect travel companion, and a great advantage for busy people on the move.



You now have the capability of choosing a Travel Mat /Yoga Towel from 100's of original designs in the online Gallery, or creating your own CUSTOM design!

Retail: $69.00

---
BookSwim
GETTING THROUGH THE HOLIDAYS: One Read at a Time!
Think you're not ready for those holiday fetes? With all the prep-work including cooking, baking, dressing and brushing up on your politics, there's barely any time to actually enjoy the festivities!
BookSwim has put together a compendium of tomes that are sure to get you geared up and ready for the holidays.
FABULOUS FROCKIN' AROUND: Don't fret! Rent these style guides and be the belle of the ball.
SOUNDING SOPHISTICATED: Hooray, no more chatting about the weather! Tune up on your
pop culture, art and party banter so you can sound Einstein-smart at the company
cocktail party. You can officially ditch the cubicle gossip!
EAT (AND FEEL) LIKE A SUPERSTAR: Educate yourself on what is healthy
and not-so-much (yep, no eggnog!).
POST-PARTY CLEAN-UP: Didn't take the above advice after you indulged in that second
glass of wine? No worries, get back on track, and in your skinny jeans in no time!
---
The latest from M.A.C. Cosmetics
Pro Longwear
In the world of Pro Longwear, Foundation and Concealer carry the show, with creamy, medium buildable coverage right through to a flawless, natural finish. With medical-grade patch polymers, these formulas get you fifteen + hours of high performance for concealing flaws and
correcting/diminishing under eye circles, spots and discolourations. Marathon makeup to go, made from micronized pigments to promote the smoothest application and colour purity. Matte blendability for perfect comfort.
I've been using Pro Longwear Foundation for the past several weeks and I love the way it evens out my complexion without looking or feeling heavy.
Haute & Naughty Lash
Leading the kind of double life that doesn't land you in the tabloids is easy with Haute & Naughty Lash. So smart with its two-in-one dual wiper system, you choose if you want defined lashes for day, or instantly combed volume for evening. Use the small orifice for a natural end look; the large orifice for major drama, all-in-one! First at M∙A∙C, this innovative, unique, double-duty development is the clever new way to customize lashes... Select and shimmy brush from root to tip for desired effect. State-of-the-art conditioning and hydrating formula prevents parching, flake-outs. A one-for-all winner!
---
Check out
the
She She Events and Featured Products page to see what the chic and stylish fashionistas are doing in your city!
---
Don't miss the Ask She She Blog!
This is where She She Girls go to find the latest styles and the hottest trends; where your fashion, beauty and lifestyle questions are answered, and the thoughts, ideas and comments of all She She Girls are encouraged and welcomed!