If you are having trouble viewing this email please visit http://www.shesheme.com/lifestyle.htm Please remember to add shesheme@shesheme.com to your Address Book to ensure that you continue to receive emails to your inbox.
5 Summer Style Must-Haves
Don't you just adore holidays? (Holidays in general, as opposed to The Holidays, which is a different case altogether, revolving as they do around the giving and receiving of gifts (highly stressful), the attending and hosting of parties (also, very stressful) and almost always involving vast amounts of calorie-laden food and really tight jeans (not only stressful, but downright exasperating since it took three months to lose enough to fit into those killer jeans in the first place!) But I digress…
Anyhoo, back to enjoying holidays. Specifically those holidays that involve not going in to work. Those days are the best! You get to sleep late, enjoy a leisurely brunch, then dress up in a summery sundress and chic sandals to stroll past the shops, occasionally stepping inside to peruse the latest handbag or flirty top on display before meeting your very chic and stylish friends for a long lunch at a sidewalk cafe and then finishing off the day with America's favorite pastime — retail therapy! Well, that's the way I envision it anyway; in reality I usually end up lazing about in bed for far too long, devouring all the sales ads and mapping out a plan of attack. Which puts me behind schedule and I end up throwing on the first pair of clean jeans I can lay my hands on; I do, however, manage to pull off a chic look with the adorable top that I bought Girly for her birthday (but that's not for another two weeks so I still have time to get her something else) and the new platform sandals that I haven't had the opportunity to debut yet. I make it to the sidewalk cafe just as the waiter is serving everyone tall frosty glasses of raspberry lemonade…and wouldn't you know it, those darling friends of mine have already ordered for me! (Hmm, wonder how they knew I'd be late?)
There's nothing like a long and leisurely lunch with chic and stylish fashionisti to put a girl in the proper frame of mind for retail therapy I might add. Lucky for me my trendy trio of gal pals enjoys browsing for a sweet handmade necklace or a new summer scent as much as shopping for the perfect pair of skyscrapers or a to-die-for little black dress. Here's what we've got on our list for making the most of summer styles:
White shirt. A gorgeous white shirt, whether classically styled or something a bit more flirty, is a great go-to item for summer style. Dress it up with a flowery skirt and metallic skyscrapers, or dress it down with cutoff denim and fun flats.
Floral/printed jeans. Denim is always a must-have for summer, but this season we have an abundance of gorgeous floral's and patterns to choose from. Vibrant and bright or water-color pastels, even black and white — so many fantastic options!
Sweet skirt. There is nothing quite like a flirty skirt on a hot, sultry summer day (or evening!) I just adore the feel of cool silk or crisp, fresh cotton against my skin. This season I am all about gorgeous melon, mint, aqua and lemon shades — perfect for summertime!
Straw tote. An absolute necessity for a day of shopping or a day at the beach! A great beach tote is roomy, unlined (so sand can sift out) and has sturdy handles. Your everyday straw tote should be well constructed, preferably lined, and has plenty of room for your girly goodies!
Fun flats. As much as I love a great pair of skyscrapers, sometimes my tootsies just need a break. This summer there are so many adorable options for fun footwear in a comfortable flat. Metallics and embellishments, pretty florals and patterns, great styles which can be worn all summer and into the fall!
Memorial Day unofficially marks the start of the Summer season - see below for some red, white, and blue pieces that will be staples for your style all summer long!
Also, with Memorial Day weekend just around the corner that means one thing – swimsuit season. Whether you're toning up to fit into an itty-bitty bikini, or working on your washboard abs to match your board shorts, ACE has put together a six exercise, no equipment required HIIT workout to help get you beach ready. ACE's Jessica Matthews helped develop the workout, where you'll perform each of the following moves for 30 seconds, with a 15 minute rest period afterwards.
Surfer steps: This move will have you pretending you're catching some waves, all while strengthening your lower body.
Plank-ups: Remember those abs we were talking about? This is the move that will help you achieve them. This move combines a core workout from the plank move, with an upper body challenge for the arms, shoulders and chest.
Plyo lunges with toe drags: Get ready to feel the burn on your lower body with this move. Not only does combining plyometrics with the lunges provide an excellent workout, the toe drags are sure to add an extra challenge for your backside.
Push-ups with a twist: Adding a twist to the traditional push-up challenges your body in a whole new way, and adds even more sculpting benefits to this tried and true move.
Rolling plank: Take your core workout to a new level by doing this combination of a side plank with a forearm plank. Adding in the "rolling" movement to switch between moves ups your core engagement and workout.
Tuck jumps: This explosive move will challenge your entire body and kick your workout into high gear. This move provides a full-body workout that will help get you bikini ready.
To watch a video demonstrating these six moves, or get more fitness inspiration, visit ACE Fit.
xoxo,
She She Me
Have a product you want us to try out? Let us know!
---
---
April Showers Bring May Flowers with Biore Steam Activated Cleanser!
(enter to win!)
They say April showers bring May flowers – apply that same philosophy to your complexion with Bioré Steam Activated Cleanser. Harness the pore-opening power of shower steam for a deep clean with this exclusive formula, featuring SteamActiv™ beads. Watch as it dissolves dirt, oil, and make-up instantly and lifts them away for a rejuvenating clean.
For optimal results, use daily in the shower by squeezing cleanser into your hands, activating the beads as you work the cleanser into a creamy lather. Gently massage over your entire face, and rinse thoroughly to reveal gorgeous, spring-ready skin.
ENTER TO WIN Biore Steam Activated Cleanser! Choose any one or ALL of the following ways to enter! The more you choose, the more entries you get!
---
WIN a FREE Dr. LeWinn by Kinerase Set!
Love retro beauty as much as we do! Now you can vote on your favorite retro beauty icon and enter for a chance to win the entire Dr. LeWinn by Kinerase product line simply by heading over to our facebook page! To vote and immediately be entered to win, just follow this link http://dlk.pgtb.me/P1ZMj8 while supplies last.
---
Ultimate Summer Fitness Luxury: Skype Into Your Next Workout
Everyone has excuses as to why they can't make it to the gym in the summer: on vacation, traveling for work, stuck at the office, you name it. But trainers and new fitness programs are increasingly turning to Skype and other video chat services to bring exercise to clients' homes, offices or hotel rooms – leaving no excuses for a missed sweat session. Simply log on to Skype and work out "alongside" friends, take a class, or be coached by your own personal trainer
Meet Tracy and Elaine, who work out "together" twice a week via Skype with their personal trainer, Marc. Both travel frequently throughout the year for work, but the one thing that always stays consistent is their Skype fitness routine. The bi-weekly workouts give them the ability to keep in touch and get a good workout in at the same time, no matter where they are.
| | |
| --- | --- |
| Marc always comments on our form and modifies exercises for us if he thinks we can push ourselves further or if one of us is experiencing muscle pain. We can't get away with anything on Skype - Marc will see us. It's a serious workout, but more fun and affordable with a friend," says Tracy. | |
Meet Denise Posnak, who uses Skype for one-on-one Pilates coaching with her clients. With Skype, location is irrelevant, and for Posnak's travel-savvy and Georgia-based clientele this is vital. Since beginning her individual sessions via Skype, Posnak is convinced that it's the most convenient way to workout, eliminating commute time and giving clients more scheduling flexibility.
| | |
| --- | --- |
| "I moved to New York after teaching at the University of Georgia in Athens, and wanted to continue to train my clients there," says Posnak. "So I decided to teach via Skype and have found it to be just as effective!" She adds, "The client gets control of the environment, and if they don't feel safe going into other spaces, this provides a comfortable place." | |
Meet actress Kate Beckinsale, whose trainer Mandy Ingber (who also keeps Jennifer Aniston in top shape) works with Kate daily no matter what.
| | |
| --- | --- |
| "If she [Beckinsale] is on vacation, we schedule Skype sessions, or she uses my Yogalosophy DVD. Being committed is key," Ingber explains. | |
---
Eco-Friendly, Sun-Protective Summer Fashion
Summer and tans may go hand in hand— but so does sunshine and skin cancer. Although more and more clothing offers sun protection, labels can be confusing. What exactly does Ultraviolet Protection Factor (UPF) mean? How can UPF clothing protect us from the sun, and is it really any different than normal clothing?
Patagonia offers a full line of UPF products that provide built-in sun protection with ventilation and moisture wicking properties for supreme comfort and breathability whether you're hitting the beach or the slopes.
Check out these and so many other fantastic Patagonia products
at our San Francisco location:
770 North Point St. San Francisco, California 94109
or check for a store near you by clicking here:
---
SPF Essentials
Check out these summer essentials for when you begin packing for your next vacation! Make your coverage count with a smart broad-spectrum formula for everyday wear or for when you're stretching out in the sand. In a world where one in five of us will get skin cancer due to sun exposure, it pays to take a minute to apply (and reapply) before stepping out of the house.
Lumene Vitamin C+ Pure Radiance Day Cream with SPF 15

A multi-purpose, SPF-infused formula, this day cream not only protects your complexion from the harmful effects of the sun, but improves skin's luminosity as well. Developed with Arctic cloudberry seed oil and nectar, it fortifies skin, defending against internal and external stressors. Apply to cleansed face every morning.

Lumene Vitamin C+ Illuminating Anti-age BB Cream with SPF 20

A multi-benefit, anti-aging must-have that works like skincare but acts like lightweight makeup. What separates this BB cream from the others? Arctic cloudberry. This amber-colored berry contains antioxidant-rich Vitamin C and offers superlative anti-aging benefits, while also rejuvenating and visibly brightening skin. The BB Cream with SPF 20 delivers six essential benefits: it brightens like a primer, evens skin tone like a foundation, hydrates like a moisturizer, corrects blemishes like a concealer, delays signs of aging and offers sun protection.

Sun Bum® Moisturizing Sunscreen Lotions: Available in SPF 15+, 30+, 50+ and 70+

Sun Bum Moisturizing Sunscreen Lotions absorb instantly to provide lasting, powerful protection. Between the premium, ultra-lightweight formula and irresistibly beachy smell, you might actually look forward to putting on sunscreen for a change.

Sun Bum® Continuous Spray Sunscreens: Available in SPF 15+, 30+, 50+ and 70+

Speed up your sunscreen application without skimping on coverage with this quick-dry water-resistant spray, available in SPF 15, 30, 50 and 70.
---
L'Occitane's Pivoine Shimmering Oil
Big event on the horizon? Let L'Occitane help add a little shimmer to your evening with their NEW Pivoine Shimmering Body Oil.

Enriched with Vitamin E, Grape Seed Oil and Mother of Pearl, Pivoine Flora Shimmering Oil nourishes, beautifies and delicately perfumes the face, body and hair with the Pivoine Flora fragrance.

Bonus? Its uniquely dry texture enables the ability to get dressed immediately after use, leaving a glistening shimmer from head to toe.

L'Occitane's Pivoine Flora Shimmering Body Oil retails for $35 and may be purchased at usa.loccitane.com
---
HELIOCARE®
A New Way to Think About Total Sun Protection
When it comes to sun protection, conventional wisdom over the past three decades has been limited to applying sunscreens and wearing protective clothing. But, recently, an extract from a well-studied tropical fern called Polypodium leucotomos, has caused great excitement among dermatologists. When taken orally as a daily dietary supplement, by the brand name Heliocare® marketed by Ferndale Healthcare, Inc., it has been shown to help maintain the skin's ability to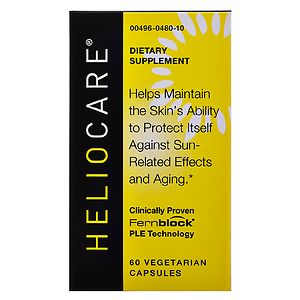 protect against sun-related effects and aging.* Polypodium leucotomos has been evaluated for over 30 years by scientists and dermatologists in several countries, including the United States.

The advice to use sunscreen protection all year long has been widely promoted by dermatologists as a way to help protect the skin from the sun, which, even in the winter, can cause permanent skin damage and premature aging. All of this protection, however, has always talked about approaching the skin from the outside. Heliocare®, an oral dietary supplement which harnesses the natural and powerful antioxidants in Polypodium leucotomos extract, is creating a shift in this paradigm. Heliocare® contains antioxidants, which aid in eliminating free radicals produced by sun exposure. A reduction in these free radicals helps to maintain younger, more resilient skin.* According to Englewood, Colorado, dermatologist, Joel Cohen, MD, Director of AboutSkin Dermatology in Colorado, "Free radicals (reactive oxygen species) wreak havoc on our whole body. In the skin, they can damage cells, tissue and support structures. Sunscreen together with Heliocare helps to prevent propagation of free radicals."

Heliocare® retails for $29.99 and can be purchased at pharmacies and fine retailers nationwide. For more information, please visit www.heliocare.com.
---
Glowing Skin Essentials from Rimmel London
Subtle, glowing skin was all the rage at the recent White House Correspondents' Dinner.. Stars like Claire Danes and Olivia Munn let their couture and their flawless features do the talking with glowy cheeks and understated eyes and lips.
Get the stars' glowing look with these three products from Rimmel London:
| | |
| --- | --- |
| | Rimmel London BB Cream: This 9-in-1 makeup bag must-have primes, moisturizes, minimizes pores, conceals, covers, smoothes, mattifies, brightens and protects with SPF 25 for a flawless, 100% natural look. |
| | Rimmel London Natural Bronzer: Give your face a sunkissed glow with Rimmel's Natural Bronzer. Available in four flattering shades, this bronzer is infused with minerals for a stunningly natural bronze. |
| | Rimmel London Match Perfection 3-Tone Blush: A trio of perfectly coordinated blushes in one single palette, Rimmel's Match Perfection 3-Tone Blush creates a natural flush of color on cheeks and contains blue sapphire pigments for an all-over healthy glow. |
---
Ladies, Protect your Locks with L'Occitane!
With this season's weather heating up, we're all spending more time outdoors. Therefore, it's important not to let those pricey highlights fade. Ladies, protect your locks from the sun with L'Occitane Radiance & Color Care Collection!

L'Occitane's Radiance & Color Care Collection includes Radiance & Color Care Shampoo as well as Radiance & Color Care Conditioner; and Radiance & Color Care Mask. This creamy mask melts into the hair providing instant radiance. Enhances shine and protects without weighing down. Use once a week to infuse hair with maximum color-protecting ingredients.
---
Gatsby Inspired Makeup from Rimmel London
The long-awaited film, The Great Gatsby, opened this weekend and the beauty inspiration from the film did not disappoint. From subtle, baby-pink nails to deep berry lips and flirty, long lashes, Rimmel London has all of the beauty essentials you need to create a 1920's-inspired makeup look.
Paint on a flawless canvas with Match Perfect Foundation. Offering traceless coverage and perfectly flawless skin under any light, the SPF 18 foundation is the perfect first step in achieving the perfect complexion. $8.99
Smooth on Rimmel's Stay Matte Pressed Powder, which contains natural minerals to control shine for up to 5 hours and helps to diminish the appearance of pores. $5
Take your lashes from day to night, whether you're going for a flapper-esque fringe or a more subtle look with Rimmel's Glam'Eyes Day 2 Night Mascara. The 2-in-1 cap contains a daytime formula to lengthen and define, and a nighttime formula to thicken, adding oversized volume. $7.99
Rimmel's Moisture Renew Lip Colour contains three super moisturizes to hydrate lips and leave them up to 60% smoother, as well as SPF 18 to protect. To get the deep, wine-stained look of the 1920's, try Burgundy Shine or Berry Queen. $6.79
Finish your look with perfectly subtle, polished tips. Rimmel's Lasting Finish Pro Nail Lacquer in Pink Bliss is the perfect shade to recreate the flawless nails of the 1920's. $3.99
---
The summer season brings high temps, humidity, sun, salt, chlorine, travel – all to test the mettle of your beauty regimen. Aveda experts are here with helpful tips for looking cool when the heat is on.
---
Calling All New York Area She She Girls!
---
Don't miss the Ask She She Blog!
This is where She She Girls go to find the latest styles and the hottest trends; where your fashion, beauty and lifestyle questions are answered, and the thoughts, ideas and comments of all She She Girls are encouraged and welcomed!
World's Most Fantastic Craft Blog:
The Sassy Pepper
You have got to check out The Sassy Pepper Blog! Created by the amazing team of Pepper and Sassy, two very stylish young mommies with amazing abilities in regard to all things DIY, the Sassy Pepper Blog is filled with wonderful ideas for creating, decorating and repurposing to make your life easier, your little darlings more adorable and your home more stylish.
From making sweet skirts out of daddy's shirts to creating an orchid terrarium or making basil mint lemonade, your sure to be as amazed and thrilled by the ideas in this blog as me! Check it out today — you'll thank me tomorrow!
Check out one of their latest projects — turning a ratty old coffee table into a super chic padded ottoman! Step-by-step instructions along with photos will take you through the process, proving just how easy it is to be a DIY expert!
---
---