If you are having trouble viewing this email please visit http://www.shesheme.com/lifestyle.htm Please remember to add shesheme@shesheme.com to your Address Book to ensure that you continue to receive emails to your inbox.
She She Me Co-Sponsors: TrooYu and Kohl's
How To Buy Clothes That Fit & Flatter, Tips From ShopSmart
(And stop wasting money on stuff you'll never wear,
or that just doesn't look good on you!)
You head into the dressing room with such optimism. You've found a really cute dress (or top or pair of jeans) on sale and you can't wait to try it on. Then comes the moment of truth. It almost fits. If I just lose 5 pounds, you think, or stand up straighter, or remember to never sit down too fast in this dress. We've all been there, talking ourselves into buying things that don't quite fit. Big mistake! Just take a gander at the back of your closet and estimate how much all those wardrobe bloopers have cost you over the years. The problem is that getting a perfect fit isn't easy. For starters, you're probably one size in pants, another in dresses, and yet another in jeans. And don't get us started on the size and fit differences among brands. So what's a girl to do? We talked to fashion experts and got their best advice on how to buy clothes that really fit and flatter your body.
If you're talking yourself into buying something that doesn't quite fit, stop right there! A new guide in the October 2010 issue of ShopSmart, from the publisher of Consumer Reports, provides the skinny on picking out wardrobe staples.
"Most of us are one size in pants, another in dresses, and yet another in jeans—and that's before taking into account size and fit differences among brands," said Lisa Lee Freeman, editor-in-chief of ShopSmart. "Given how hard it is to find a perfect fit, ShopSmart has compiled the best tips to ensure your purchases won't sit at the back of the closet unused for years."
ShopSmart's "How to Buy Clothes That Fit & Flatter" feature includes top-of-mind pointers to help you make the right decision in the dressing room, tips on how to tell if something needs customized tailoring, warning signs that an outfit is a strict no-no, handy formulas for sizing common accessories, and a guide to finding flattering duds online, no matter what size you are. Below is a sampling of some of ShopSmart's advice.
Tops
Shoulder Seam. The seam where a fitted sleeve attaches to a shirt or blouse should make a vertical line from the top of your shoulder to your armpit. This keeps the look feminine and youthful, not slouchy!
Sleeves. Long-sleeved blouses should stop at the bend of your wrist. Three-quarter-length sleeves are universally flattering in knit tops; they cover larger upper arms and accentuate slim wrists.
Bust. The fullest part of your bust should be midway between your shoulders and elbows; get fit for a new bra if yours is anywhere below that. And if a blouse gapes open, skip it: it's too small.
Length. If you plan to wear a shirt untucked, look for a hem that hits above the widest part of your hips or goes a bit longer to lengthen your silhouette. A hem that ends at the hips makes you look boxy.
Dresses and Skirts
Hems. These should stop where the leg naturally narrows, such as just above the knee or at the ankle. If they stop atwider points, you'll look wider.
Bias cut. Dresses cut on the bias skim your body without clinging, and have a fluidity that garment cut with the grain of the fabric don't have. To find on-the-bias cuts, look for woven dresses that stretch when pulled vertically or horizontally. Also look for fully-lined items, which smooth bumps and hide imperfections.
Pants
Waistband. Bend from side to side; where you "fold" is your natural waist. Waistbands shouldn't go above this spot (or you're into dreaded "Mom jeans" territory). Midrise pants are flattering on most women.
Rise. Crotch placement should match your own (that's the rise); it shouldn't sag or ride up. Look for pants and jeans that fit just a tad tighter in the store than you want them to. They'll usually stretch with wear.
Length. Slim, narrow-legged pants should end at the top of your shoes. Wide-legged pants should end about half an inch above your shoe heel in back.
Belts
Width. The shorter you are, the thinner your belt should be; wider styles might cut you in half visually. A good guide: unless you're 5 feet 9 inches or taller, stick to belts no wider than 2½ inches.
Over or under? Skip wearing a belt over your clothes if you have a tummy; you'll just draw attention to the area. Accentuate your assets: if you're belting a slim-fitting top, put the belt at your natural waist, which is your smallest point.

Shoes
Size. You should have room to wiggle your toes, and shoes shouldn't slip off your heel when you walk. Your heel shouldn't hang off the back of sandals or slingbacks. If you're between sizes, go up a size and buy heel liners to get a perfect fit.TIP: Always try on both shoes and walk around in them for a few minutes. If they aren't comfortable in the store, they'll never be comfortable!
Click here to see the article in it's entirety.
Well darlings, these tips are a good start to helping you get your wardrobe in gear, and also keeping your wallet happy by not wasting that hard earned cash on clothes that just don't fit right or make you look spectacular! Also, now is the time to snap up a few of fall's absolute essentials, like gorgeous equestrian style riding boots, a military style jacket and a snuggly warm scarf. After all, looking good is for amateurs, having style is a talent! Let's develop that talent girls!
She She Me
P.S. Be sure to check out the Home Page for updates from She She Me. Also, check out our all new Hot Products in the She She Mall. We are also adding New Stores each week so check back often for updates and fantastic savings! Also, don't miss the great girly merchandise in our Chic Shop.
---
She She Me Co-Sponsor:
Troo You

Trooyu introduces to North America, premium handcrafted footwear that has been enticing European and South American customers with luxury, sophistication, and meticulous craftsmanship for over 80 years. When you order a pair of our boots, they are made to order, created and finished completely by hand in Buenos Aires, Argentina. Our boots are made with Argentine leather of the most exceptional quality and completed with expert craftsmanship. Unparalleled design, hand cut, hand sewn and perfectly finished –Trooyu's authenticity and styling are timeless.

About Us
With Argentinean roots and passion Renata and Mirtha Barberis bring their unique culture and design to America. They founded Trooyu in 2009 with the objective of bringing together exceptionally hand-made leather boots with the artistry of premium knits. The products featured on Trooyu's website translates Argentina's rich cultural history of the equestrian lifestyle and the enduring traditions of its skilled artisan. Trooyu
works with local craftsmen to support generational traditions, fair trade practices and peaceful business practices.

She She Me Co-Sponsor:

From apparel to jewelry and handbags, the Kohl's Simply Vera Vera Wang 2010 Fall line includes all of the best trends for the season.

The most outstanding pieces include frilly, feminine cardigans and sweaters, graphic print tops and dresses, oversized necklaces with chunky jeweled accents, embellished handbags and colorful, textured leggings.

With most priced under $100, not only are the pieces true standouts, but so are the prices.


Shop Kohl's today and save on all your fall fashion needs!
---
She She Me's Favorite Things
---
---
As the old saying goes, the eyes say it all. But the one thing we don't want them to tell is our age. The experts at La Roche-Posay under
stand that the eyes often show the first signs of aging, which is why they have developed Redermic [+] Eyes and Hydraphase UV Eyes to combat your aging dilemmas.
With ingredients such as 5% Pure Vitamin C, Madecassoside and Hyaluronic Acid, Redermic [+] Eyes not only targets the effects of skin aging but contains Neurosensine to combat micro-inflammatory stress, a true aging accelerator. The result is improved skin firmness, hydration, and tone.
UV exposure is one of the main causes of signs of aging. Hydraphase UV Eyes contains SPF 29 to shield burning UVB rays, while the broad spectrum sunscreen protects skin from the aging UVA rays. The unique combination of thermal spring water and glycerin also sooth dehydration lines of the eye contour and provide long-lasting comfort to delicate skin.
---
Check out the fabulous products from Completely Bare, the #1 spa for laser hair removal for women and men. Keep your skin silky smooth and touchable with these great products from Completely Bare:
---
Nature's Gate Fruit Blends
Harness the Power of Fruit
Even though summer is drawing to a close, that doesn't mean you can't keep a fresh, fruity scent. Whether you're looking for healthier hair or smoother skin, Nature's Gate Fruit Blends can help!
The Fruit Blends Hair Care products are designed for all hair types and conditions. The shampoos and conditioners are proven to protect hair color from fading. For a light, fruity scent, try Mandarin Orange & Patchouli.
Looking to pamper your skin a bit? Try the Fruit Blends Persimmon & Rose Geranium Body Lotion. This refreshing scent, with a floral accent, is packed with skin protecting antioxidants that will leave skin smooth and soft all year long.
Leave your hands feeling fresh and clean after washing with Fruit Blends Liquid Soap! Available in scents such as Grapefruit & Wild Ginger, These soaps deeply cleanse the hands, leaving them pampered wash after wash.
I've been using these luscious products for the past few weeks and I am completely hooked! I adore the Persimmon and Rose Geranium Body Lotion - every time I use it I am reminded of a relaxing, warm sunny day. I also keep a bottle of the Grapefruit & Wild Ginger Liquid Soap by my kitchen sink for a quick fragrant pick-me-up. Try Nature's Gate Fresh Fruit Blends today and keep that happy sunny summer feeling all year long!
---
Boob Tube
Boob Tube Supports Look Good…Feel Better® and
Breast Cancer Awareness Month
Every application of Boob Tube and Boob Tube with Magic Shimmer helps us get to know our boobs on a daily basis. Look after yourself and get great looking boobs with our award-winning bust cream. This October, Mama Mio will donate $1 for each Boob Tube and limited edition Boob Tube with Magic Shimmer sold at mamamio.com worldwide to Look Good…Feel Better, the cancer support charity that helps women manage the visible side effects of cancer treatment.
For dive-in cleavage with a smooth, firm neck
For a lush, juicy décolleté, our anti-oxidant and Omega-rich bust and neck firmer will help you defy gravity and take years off your neck and chest. With CoQ10, Evening Primrose Oil, Shea Butter, Milk Thistle, Sweet Almond Oil, Avocado Oil, Almond Oil, Fenugreek Extract, Dandelion Root, Wild Yam Extract and Saw Palmetto Extract.

CelebrityFans Jessica Alba, Padma Lakshmi and Christina Aguilera
LIMITED EDITION Boob Tube With Magic Shimmer
For sparkling cleavage and a young, toned neck

For sparkling cleavage and a young, toned neck With a base of Mama Mio's quintessential Boob Tube formula, the new shimmer edition is amped up with a micro-golden glimmering sheen that gives your décolleté an irresistible sparkle. The light-reflecting shimmer dust adds
---
e.l.f Supports Breast Cancer Research
The staggering reality is that a woman dies every 13 minutes in the United States from breast cancer. This October, e.l.f. cosmetics is once again teaming up with the Breast Cancer Research Foundation, the most highly rated breast canc
er organization in the US., to continue the fight and to help raise valuable funds for research grants and awareness programs.
To show their support, e.l.f. will be donating 100% of all sales from the highly coveted Pageant Princess Mineral Lip Gloss – a sublime, shine enhancing formula that is as health conscious as it is kissable and perfectly pink!
In today's world, more and more women are becoming highly aware of the ingredients and formulations they are putting on their skin, and with good reason -- what goes on the skin goes straight into the bloodstream, and lip-gloss is no exception.
e.l.f.'s Mineral Line, and the Mineral Gloss, is 100% free of parabens and preservatives and formulated with a 100% mineral base. Plus is also contains vitamin E for added hydration and vitamin A to help prevent and reverse signs of aging. The perfectly wearable, neutral Pageant Princess shade contains just the right amount of glimmer to add vitality and a hint of color to lips.
---
World's Most Fantastic Craft Blog:
The Sassy Pepper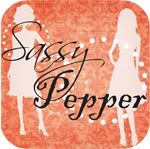 You have got to check out The Sassy Pepper Blog! Created by the amazing team of Pepper and Sassy, two very stylish young mommies with amazing abilities in regard to all things DIY, the Sassy Pepper Blog is filled with wonderful ideas for creating, decorating and repurposing to make your life easier, your little darlings more adorable and your home more stylish. From making sweet sundresses out of men's shirts to creating an orchid terrarium or making personalized thank you notes, your sure to be as amazed and thrilled by the ideas in this blog as me! Check it out today — you'll thank me tomorrow!
Check out these great tips on how to throw
a fabulous themed party!!
---
Check Out the Ask She She Blog
The Ask She She Blog, where She She Girls go to find the latest styles and the hottest trends; where your fashion, beauty and lifestyle questions are answered, and the thoughts, ideas and comments of all She She Girls are encouraged and welcomed!
---
---