If you are having trouble viewing this email please visit http://www.shesheme.com/sassy.htm Please remember to add shesheme@shesheme.com to your Address Book to ensure that you receive emails to your inbox.
Summer 2013 Style
and Beauty Essentials
It has been one crazy week around here! I always have a problem recovering from a long holiday weekend and immersing myself in work once again. Not that I have anything against long holiday weekends — au contraire! If it weren't for the occasional 3 or 5-day weekend I would probably be writing from a padded cell somewhere. No, my problem arises from the fact that when Monday disappears from my work schedule I just can't seem to take the rest of the week seriously. Tuesday, of course, is the day that you should return to the office rested, relaxed and renewed with energy and optimism. Unless of course you accidentally-on-purpose extended your weekend by yet another day, arriving home in the wee hours of Wednesday morning with a Diet Pepsi hangover and a suitcase full of dirty clothes. Which makes it difficult to get to work on time on Wednesday (alarm clock malfunction combined with laundry crisis), which actually turns out OK since everyone at work is still busy rehashing their holiday adventures aka Who Wore it Better. So when Thursday rolls around you realize it's almost the weekend again and it's really not a good time to start a major project because everyone knows that the entire office clears out early on Friday to avoid weekend traffic!
But that doesn't mean I haven't been productive! I have used my limited time wisely my friends. I've pulled together some of my favorite looks for Summer 2013, as well as some great beauty and makeup tips for the rapidly approaching warmer weather:
Sweet Summer 2013 Swimwear Styles:
| | | | | |
| --- | --- | --- | --- | --- |
| Biarritz Bikini Tip | Tie-Front Tank Suit in Safari Stretch | Ralph Lauren Blue Label | Double-stripe underwire halter tank | Melissa Odabash India bandeau bikini |
| | | | | |
Gorgeous Beach Coverups:
Iniko Beach printed
silk kaftan

Herringbone stripe tunic

Jilli Beach Coverup

Golden Mesh Coverup
Sweet Summertime Dresses:
| | | | | |
| --- | --- | --- | --- | --- |
| Gatsby Glam Dress | Pink Tie-Back Maxi Dress | Silk Cami Dress | Printed Daisy Dress | Isla Eyelet Dress |
| | | | | |
Fabulous Beach Bags:
| | | | | |
| --- | --- | --- | --- | --- |
| BCAICOS satchel | My Other Bag Madison in Black/White/Tan | Jada Raffia Tote | Sea Stripes Tote | Kaya printed cotton-canvas shopper |
| | | | | |
Sassy Summer Sandals:
| | | | | |
| --- | --- | --- | --- | --- |
| Belle Sigerson Morrison Braiden | Fiori Sandals | Bristol Wedge Sandal | Winona Straw Wedge | Giovanna Cork Wedge |
| | | | | |
Pro Tricks from Mally Roncal
Now that the warm weather is finally here and summer is quickly approaching, it's not only time to spruce up your closet, but your eye makeup routine, too!
New eye shadow colors can go a long way towards updating your look for the changing seasons – without needing to overhaul your entire wardrobe. Whether you're into a dark, smoky eye or bold pops of color, you're sure to find your match with Mally Beauty's NEW Pro-Tricks Eye Palette. The best part? You c
an use these 12 gorgeous shades to create any custom look you want.
These colors can be as intense or as light as you would like simply by using the unique shade modifiers – the light shade modifier turns any shade lighter, and the deep shade modifier makes any shade deeper.
First, apply the shadow base which will allow any color you use to be completely bullet proof. Then, apply the shadow of your choice. Use these shades all over the lid, in the crease, and even along the lower lash line for a smoldering look. Easily lighten or deepen with the shade modifiers right on top of the shadow.
Summer-Proof Your Beauty Routine:
Bronze it up! "Create that glow by using a bronzer that is 1-2 shades darker than your natural skin tone. Apply it to the following areas: concentrate on the perimeter of your face and start behind the ear, working down along the jawline. Then, go across the top of the forehead (along the hairline). Lightly sweep across the forehead, bridge of the nose, cheeks, and tip of the chin. To prevent your face from looking "muddy" or "dirty", make sure that you also apply a great pink blush on the apples of the cheeks, and a sweep of highlighter on the tops of the cheekbones. Try Mally Beauty Believable Bronzer. Next, apply a shimmery champagne eyeshadow all-over eyelids. Try Mally Beauty Evercolor Shadow Stick in Saddle Shimmer and finish off with a nude lipgloss. Try Mally Beauty Super Natural."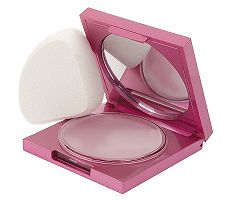 Flawless Finish: "Many women think translucent powder is the best way to battle shine during the summer, but I'm here to tell you that is not the case. It will leave you looking dry, white, cakey, and it will settle in all of your fine lines and wrinkles. I developed a high-performance alternative—my Evercolor Poreless Face Defender, the world's first ever clear setting powder! This game-changing formula sets makeup, reduces shine, minimizes the appearance of fine lines, wrinkles and pores and leaves skin satiny-matte. Best of all you can reapply throughout the day on top of makeup for extra shine protection."
Waterproof and Bulletproof: "In the summer, I swear by my Waterproof Volumizing Mascara, an amazing formula that captures the one hour's worth of work I used to do on my clients, so that you just need two coats on the top and one coat on the bottom for lush lashes! To remove, just make sure you have an oil-based makeup remover on hand! (Try my Mally Beauty Dual-Action Makeup Remover for Eyes and Lips)."
Get the Royal Treatment with Philip B.
Slip away from your chaotic schedule and indulge in the ultimate at-home pampering session with the Philip B® Royal Treatment Collection. This rich, aromatic duo is bursting with a rich, sweet-woody scent and will revive hair, leaving it glossier and bouncier than ever before.

A revolutionary innovation in hair care. PHILIP B® Oud Royal Forever Shine Shampoo contains time-released botanical hydrators, molecules tiny enough to pass through the fiber of your hair and moisturize each strand from the inside out. Just one use will make a remarkable difference in the overall look and feel of your hair. Think thicker, glossier and bouncier than ever before – and the effect lasts for days!

PHILIP B® Oud Royal Forever Shine Conditioner: Perfect for reviving, defining and de-frizzing curls; creating sleek, swingy blowouts; and plumping up fine, limp hair for lasting volume. An intensive hydrating emulsion treated with high-vapor energy – a new, patent-pending technology - breaking it down into moisturizing particles tiny enough to sink deep inside the hair shaft.
See-No-Scar with Mama Mio
They say every scar tells a story – thankfully, Mama Mio's See-No-Scar is here to give yours a happy ending! Help speed recovery of embarrassing shaving nicks and pesky mosquito bite marks with this high-performance solution.

Mama Mio See-No-Scar: With proven ingredients to jumpstart the skin's healing process (and fuel skin regeneration below the surface), this scar treatment improves the texture, depth and color of scars. Ingredients Dimethicone and Vitamin E form a shield to protect scars and encourage their healing from within.
Well my dears, that should give you a good head start on your summer beauty and style essentials! Be sure to enter our THREE GIVEAWAYS below!
xoxo,
Girly
Have a product you want us to try out? Let us know!
---
4-in-1 Detoxifying Cleanser from Biore — your new multi-tasking hero!
With all we do throughout our day, the word "multitasker" doesn't begin to describe most of our busy lives. So why shouldn't your facial cleanser follow suit? Bioré's 4-in-1 Detoxifying Cleanser cleans, tones,
detoxifies, refreshes and truly does it all — just like you.
This unique, oil-free self-foaming cleanser wipes out over 93% of impurities, dirt and oil to leave skin healthier-looking and refreshed. "The easiest way to get on a good skincare regimen is to use effective multi-purpose products, like Bioré Skincare's 4-in-1 Detoxifying Cleanser — cutting down on the products you use can help you stick to good skincare habits," says Bioré consulting dermatologist Dr. Sapna Westley.
Want to give it a try? Enter here for your chance to win the new Bioré's 4-in-1 Detoxifying Cleanser! The more ways you enter the better your chances of winning!
---
Once the 500 mark has been reached, FIVE lucky winners will be randomly chosen to receive a collection of TILTH Beauty products. To enter the giveaway, simply:
Click on the link below.

Sign in with Facebook.

Click "Follow" for your chance to win.
https://www.opensky.com/tilth-beauty
---
MOLLY SIMS HOSTS LAVANILA LABORATORIES HEALTHY DEODORANT BOOT CAMP IN SEPHORA TIMES SQUARE
On Wednesday, June 5, 2013 former famed Sports Illustrated "Swimsuit Issue" model and Las Vegas actress Molly Sims and Lavanila Laboratories want to make you sweat. Celebrity Trainer Brooke Marrone will join Sims in leading a one-hour boot camp workout session at Sephora Times Square to put Lavanila's Healthy Deodorant to the test.
To join in this all-star exercise hour and meet the celebrated model and actress, just pick up one of Lavanila's Healthy Deodorant's in-store on June 5th and get ready to work it. Lavanila is confident that after one hour of wearing The Healthy Deodorant, you'll boot your harsh chemical deodorant to the curb!
Lavanila's Healthy Deodorant is 100% natural, chemical-free, and packed with skin beneficial vitamins and essential oils that not only protect against odor, but nourish and condition as well. With a velvet soft texture and burst of freshness, it comes in an array of scents to choose from including: Pure Vanilla, Vanilla Grapefruit, Vanilla Coconut, Vanilla Lavender, Vanilla Blackberry, Vanilla Passion Fruit. And new to the collection, Lavanila launches Fresh Vanilla Lemon just in time for summer!
But, what good is a natural deodorant if it doesn't work? To prove the efficiency of The Healthy Deodorant's powerful, clinical strength formula, fitness guru Brooke Marrone will lead a one hour boot camp to put it to the test. Come get your heart rate up, move to the beat and see for yourself how amazingly fresh The Healthy Deodorant keeps you, even when you're working hard.
WHAT:
Lavanila Healthy Deodorant Boot Camp Hosted by Molly Sims
WHEN:

Wednesday, June 5, 2013
10:00am – 11:00am

WHERE:

Sephora -Times Square New York
1500 Broadway (Between 43 & 44th)

WHAT IT COSTS:
Must purchase a Lavanila Healthy Deodorant to participate ($14.00 2oz. / $8.00 .9oz)
About Lavanila: Lavanila Laboratories delivers a new generation of 100% Healthy products that are elegant, refined and luxurious in both formulation and design. Every offering—beginning with its breakthrough fragrance collection—features all-natural, vita-rich technology to nurture one's skin, scents to indulge one's mood and worry-free formulations to pamper one's soul.
Can't make it to the Boot Camp? Enter here for a chance to win Lavanila Healthy Deodorant! The more ways you enter the better your chances of winning!
She She Me & Girly's Favorite Things
---
PREPARE TO BE WOW'D!
The miracle hair care collection you've been waiting for has arrived…
Introducing Color Wow, a game-changing collection of professionally formulated color care products that not only spells the end for roots, but also solves every single issue associated with color-treated hair. Founded by renowned beauty innovator, Gail Federici and internationally acclaimed hairstylist John Frieda (the duo known for solving frizz and perfecting blonde), Color Wow harnesses the power of cutting-edge technologies to deliver perfect color 365 days a year.
For the more than 75% of women who color their hair, Color Wow provides a comprehensive, at-home solution to unsightly roots, fading, brassiness and more. The brand's hero product, Root Cover Up, is a professional mineral powder that seamlessly covers grey roots and dark re-growth in lightened and highlighted hair with no waxes and no dyes. Never before has dark re-growth been "lightened" without peroxide. This unique oil-based, non-waxy formula stays in place, creates multi-dimensional shine and looks completely natural. Each of the four shades contains a number of colors and pigments to ensure natural blending with the tones in your own hair. Extremely portable and easy to use, Root Cover Up is ideal for travel and last minute, on-the-go fixes, as well as for pregnant women as it's dye-free.
The line also includes:
---
Cenoire's Novo Atomizer Facial Mist Spray
With summer and warm weather finally here, keeping skin feeling moisturized and rejuvenated can be a chore. Cenoire's Novo Atomizer Facial Mist Spray is a great solution to fight that!
The Novo uses advanced Nano technology, a process that atomizes the water from the reservoir making it
easier to absorb into the skin, leaving skin feeling more moisturized and elastic. To use Novo, simply press the power button down, and hold the atomizer approximately six inches away from the skin. It also has a four- minute auto shut-off feature for those moments when the time and summer weather are not on your side. Equating summer weather with dry, rough skin has become a thing of the past.
I received my Cenoire Novo just in time to kick off summer and let me tell you it arrived in the nick of time! I spent the long weekend relaxing on the beach, which was fabulous, but that salty sea air totally wreaks havoc on my skin. Enter, Cenoire Novo. The delicate mist is absorbed in the skin leaving it feeling fresh, supple and rejuvenated. I love it!
---
Nails Are Fearless for Summer 2013
Dermelect Cosmeceuticals and Celebrity Nail Tech, Elle, extended a hand to guest collaborator Karie Frost, founder of top beauty blog FearNoBeauty.com, to create ME's Summer 2013 Lacquer Collection. Aptly named Fearless Beauty, the eye-popping four color lacquer collection contains Dermelect's signature anti-aging, peptide-infused formulation, designed for women who desire to grow out long, strong, natural nails without compromising fashionable fingertips.
Created for beauty junkies who love to push boundaries, the Fearless Beauty collection contains four creamy hues injected with high-voltage bright pigments, guaranteed to turn heads.
---
Shimmery DIZZY Jelly Ballet Flats
in Silver Gunmetal!
The Dizzy Ease Jelly Ballet Flat is a versatile shoe that is perfect for a busy workday, and equally chic for a night out with the girls. The ideal shoe for women who want a quick solution to an outfit change. These flats demonstrate how fun, fashion, and jelly can coexist for a shimmery summer experience. These comfortable shoes combine a cushion foot bed with a fun summer style, so that women everywhere can be stylish and at ease.

These flats are exclusive to CameoNouveau.com, an online emporium offering the latest and greatest in apparel, home and lifestyle goods.
---
NYX Cosmetics' Warm-Weather Makeup
With summer finally here, it's time to "weather-proof" your beauty routine. NYX Cosmetics has the beat-the-heat beauty secrets you need to keep your makeup looking fresh and pretty all summer long. From volumizing mascara to makeup setting spray, NYX has all the tools for a light and natural summer look to help withstand the heat and humidity and avoid a makeup meltdown!
NYX Cosmetics Warm-Weather Makeup:
---
BIOBLISS Anti-Wrinkle System
BIOBLISS's new skincare line is suitable for all skin types and works for women and men of every age. The system delivers dramatic results for preformed wrinkles without an invasive treatment and can also serve as a preventative step to avoid wrinkles and fine lines from forming.
The BIOBLISS System offers a range of anti-aging products including:
Clean – Expertly formulated to leave the skin feeling clean and purified, this mild and refreshing cleanser removes makeup and impurities with a natural, nutrient-rich blend of calming cucumber extract, Aloe Vera and skin protecting antioxidant Vitamin E. Use twice daily and prior to the BIOBLISS Scrub.
Scrub – This invigorating exfoliating scrub removes dead skin cells, unclogs pores and softens fine lines using natural soaps derived from coconut, olive, macadamia nut, sunflower and avocado that will not strip the natural oils from skin. Use 1-2 times per week.

Lock It In Serum – The BIOBLISS serum features hyaluronic acid to attract and retain skin moisture as well as Matrixyl 3000 peptides to stimulate collagen production while making the skin stronger and more elastic. Prickly Pear extract blocks the release of stress markers from sensory nerve cells in the skin and calms irritated skin. Use twice daily after cleansing and exfoliating.
Hydrate Lotion – This 100% natural, toxin free lotion combines Hibiscus Esculentes, a vegetable oligopeptide that naturally relaxes muscle cells, and essential vitamins, fatty acids and antioxidants to nourish and rejuvenate the skin while combating the biological agents of cellular aging. Flaxseed, Evening Primrose, Pumpkin Seed, Borage Seed and Sasha Inchi oils aid in the protective function of cell membranes, restoring moisture balance and elasticity. Use twice daily.
---
A Picture's Worth 1,000 Words,
But A Selfie's Worth $1,000
To celebrate the 50th anniversary of Vidal Sassoon's iconic bob haircut, Vidal Sassoon Pro Series is kicking off our "Show Your Genius" contest by opening the Sassoon Salon New York Uptown and offering haircuts at the 1963 price of just $7 (normally $98-$147). If you're in New York, get a head start on the competition by crafting the perfect style with the hands-on help of Sassoon professionals! Plus, meet model and actress Jaime King from TV's hit show "Hart of Dixie" who will be the first to debut her new Sassoon-inspired look at the Sassoon Salon.
WHAT:

Vidal Sassoon Pro Series "Show Your Genius" Contest

Who could turn down the chance to see actress Jaime King and get a haircut at the 1963 price? We still can't believe that $7.00 used to get you a salon appointment with the man himself –Vidal Sassoon!

WHERE:

Sassoon Salon New York Uptown
7 West 56th Street (between 5th and 6th Avenue)
New York, NY 10019

WHEN:

Tuesday, June 4th, 2013
1 hour appointments available from 10:00am-7:30pm
Reservations required (there are a limited number of appointments, so book your spot at https://www.facebook.com/vidalsassoon/?sk=app_472446206157817 or www.Facebook.com/VidalSassoon starting May 28th)
Non-NYC readers don't need to fret. Their 'selfie' is also worth $1,000! For the Vidal Sassoon Pro Series "Show Your Genius" contest, we're asking women to flaunt their hair genius for a chance to win $1,000 among other prizes. All they need to do is upload an existing image or snap a quick photo here for a chance to win: https://www.facebook.com/vidalsassoon/?sk=app_472446206157817
Since NYC salon appointments can be made starting today and reservations are required for the June 4th event, I wanted to see if you're interested in telling your readers about the salon event so they can book their appointment this week while spots are still available.
---
Go mobile with the Ask She She Blog!
This is where She She Girls go to find the latest styles and the hottest trends; where your fashion, beauty and lifestyle questions are answered, and the thoughts, ideas and comments of all She She Girls are encouraged and welcomed!