If you are having trouble viewing this email please visit http://www.shesheme.com/sassy.htm Please remember to add shesheme@shesheme.com to your Address Book to ensure that you receive emails to your inbox.
Easy Wardrobe Updates for Fall
Enter to win $100 Kohl's Gift Card!
Now that I have almost fully recovered from my birthday, which was fabulous by the way — fun party, fun friends, oodles of goodies, including this scrumptious bag from dad and mom (so glad to have inherited her sense of style — thanks mom!!) But I digress…where was I? Oh yes, recovery. As I was saying, now that I have begun to functionally deal with the erstwhile transition deeper into my twirties, I have taken this opportunity to reflect upon my life. And by reflect I mean take a critical and unbiased look at, and by my life I mean my closet.
Ergo, I have spent the past two weeks rifling through my extensive collection of stylish suits, classy coats, drop-dead dresses, flirty skirts, killer denim and terrific tops, weeding out the unnecessary, the unflattering, the superfluous and the occasional what-was-I-thinking. Which has left me with a very organized although somewhat barren closet, with more than a few fashion holes to be filled.
I have the essentials covered, since I always buy top quality basics such as blazers, blouses and the ubiquitous lbd in classic and timeless styles that will carry from one season into another, so my current fashion search is focused on updating the classics that currently reside in my closet.
Winter Neutrals. Remember when your grandma would tell you that you should never wear wh
ite after Labor Day? Well, that fashion advice has gone by the wayside, along with "never wear black to a wedding" and "only tramps wear open-toe shoes". I do, however, love the look of warmer neutrals during the fall and winter. Shades from cream and bone to camel and ecru all add a bit more warmth to an ensemble than basic white. You can even add a little neutral spice with saffron, caramel, cinnamon, earthy brown and deep chocolate hues.
Turtlenecks and Buttondown Shirts. Not only is this a very classy look for fall, but it is also sensible as well! A very stylish way to keep warm. Keep the turtleneck sleek — a lightweight cashmere or silk works especially well. As for the blouse, a crisp white cotton is the way to go, but I am also a bit partial to silk. This ensemble makes a great office look when worn with a tweed skirt, tights and sleek booties, or is equally chic as a casual style when worn with jeans and boots.
Classic Denim. It goes without saying that every season demands new denim. I mean, denim is the staple of most women's wardrobes after all. But denim is a fickle creature, no? One season it's all about the skinnies, then next thing you know slouchy boyfriend jeans are all the rage. So what's a stylish girl with her eye on her checkbook to do? Stick with the classics darlings! Classic bootcut jeans are always in style, and can be worn with absolutely anything and everything. And the best thing is that all of the denim designers know this, which is why you can always find classic bootcut jeans. Just choose the brand that best fits and flatters your figure. It's worth it to spend an afternoon at a department store like Bloomies, Nordies or Saks, trying on jeans from every designer and taking notes on what fits and flatters you best. That way you are armed with the correct sizes, styles, fits and washes and can take advantage of the fabulous online sales, designer discount sites, and designer sales sites when your favorites go on sale!
Velvet. In the famous words of George Costanza, "I would drape myself in velvet if it were socially acceptable." Well darlings, not only is velvet socially acceptable, but it is all the rage this season and I am all over this trend. Although I must advise against completely draping oneself in velvet (too much of a good thing and all that.) One exquisite piece is all you need. A great pair of velvet jeans topped by a silky blouse, or perhaps a pair of indigo jeans, a white blouse and a classic velvet blazer. My pick for the season: this gorgeous velvet dress, which I will pair with sassy pewter croco heels for one hot evening look. If velvet isn't your thing, apparel-wise, take baby steps with a great pair of velvet and suede sandals, or an elegant velvet bag.
Black & Winter White. You know how it is, there are those days when you think you just don't have a thing to wear. This is where a great ensemble in classic black and white (or winter white!) will fulfill your fashionista fantasies while allowing you to retain your chic style. This season I am going for a bold effect with this gorgeous beaded-collar dress in a soft creme, paired with black suede booties, for just a bit of an edge. Accessorize with a big bold ring and finish with a great handbag and you've got one haute look!
Well darling girls, that should get your wardrobe off and running in style (we'll tackle footwear another time because that's an entire newsletter in itself!)
And to help get a start on that wardrobe update, the fabulous folks at Kohl's have sent along a $100 gift card for one lucky She She girl! Check out a few of my favorite styles for fall from Kohl's:
| | | | |
| --- | --- | --- | --- |
| Rock And Republic Berlin Coated Skinny Jeans | Jennifer Lopez Floral Brocade Fit and Flare Dress | Jennifer Lopez Rochelle Snakeskin Clutch | Lc Lauren Conrad Lace-Trim Chiffon Blouse |
| | | | |
| | | | |
| --- | --- | --- | --- |
| Rock And Republic Embellished Crepe Blouse | Candie's Embellished Boots | Jennifer Lopez Ponte Sheath Dress | Rock & Republic Platform High Heels |
| | | | |
Enter to Win a $100 Kohl's Gift Card!!!
Four ways to enter:
Good luck darling girls!
Girly
Have a product you want us to try out? Let us know!
---
She She Me & Girly's Favorite Things
---
Trend Alert: Boho Chic
Easy, beautiful, and comfortable all in one, this trend is accessible to everyone with just a few key pieces. Accessorize flowy tops and loose jeans with an oversized slouchy bag, a lightweight scarf, and fun bangles for the perfect Boho Chic look!
See more fabulous boho chic styles at Juliet & Company, Subtle Luxury, and Whiting & Davis.
---
Halloween Treats From LUSH
There's a chill in the air and it's the time of year for a wicked good time. Turn a dull Autumn soak into a colorful cauldron of bath time bliss! LUSH is thrilled to unveil these frighteningly fun shower and bath goodies to celebrate the scariest month of the year. Available starting October 1st on LUSH.com and October 13th in LUSH shops, be sure to get your claws on these ghoulish goodies while you can!
Launching just in time for the spookiest night of the year, anyone in need of a good night's sleep will love this lavender-laden shower gel. Inspired by our best-selling bath bomb Twilight, it contains a blend of deeply relaxing essential oils such as lavender flower infusion, lavender oil and ylang ylang. Use this relaxing, soothing, deep purple, twinkly shower gel to calm your mind and get you ready for sleepy time. We're not saying it can keep the bogeyman at bay – but it certainly can't hurt. Vegan

$9.95 100ml/ $18.95 for 250ml / $27.95 for 500ml

Make some magic in the bath on Halloween with this spirited fizzer! A colour-changing wonder, Enchanter brings busts of oranges and pinks to your bath while the citrus scent lifts your spirits. $6.95

Calacas means skeleton in Spanish, and this colourful green jelly will get you squeaky clean – no bones about it. The energizing scent of lime and neroli perks you up and gets you moving, while the aloe vera gel gently softens skin. Especially good frozen, they make for a sharp shock in the morning for all you lazy bones!

$4.95
---
Fabulous Fall Beauty
HAIR:
Davines NOUNOU Pak
$29 at www.davines.com for salon locations

This restorative treatment is ideal for dry, stressed hair as it adds depth, body and volume. It contains jojoba oil to add shine; olive butter to rebalance color-treated hair; cherry oil (which contains high quantities of omega-6 fatty acids) to add moisture; and rhizobian gum to release water; something your hair needs so it never becomes over-moisturized and weighed down.
FACE:
Clark's Botanicals Deep Moisture Mask
This mask is an intensive, nutritional supportive skin-therapy treatment that revitalizes aging, dry and environmentally stressed-out skin. With each use, skin is infused with hydration and begins to glow. Over time, the appearance of wrinkles becomes diminished.

"I wanted a mask that could hydrate and soothe skin quickly, and be used year-round, nourishing the skin and restoring a natural glow. The high concentrations of algae extract, coupled with comfrey root, Jasmine Absolute, and Japanese Green Tea, make this mask one of the most potent anti-oxidant treatments on the market. This mask quenches the driest complexions, and can be used even on acne-prone areas. It's also one of those products that goes missing because my mother and sister are always stealing it." —founder Francesco Clark
Clark's Botanicals Ultra Rich Lip Balm

As if natural moisturizers like Shea Butter, Aloe Leaf Extract, Jojoba and Sweet Almond Oil weren't enough, this lip balm also has Marine Collagen Microspheres that act like miniature water reservoirs. Together, these ingredients deliver intense, long-lasting hydration. Vanilla Planifolia and Jasmine Extracts add a delectable flavor that will have you re-applying—even when you don't need to.

"I suffer from extremely dry, cracked lips, especially in the winter, and I wanted a lip balm without ingredients like Petrolatum," says Francesco. "The Jasmine Absolute and Calendula Extract help heal irritations on the lips, from chapped skin to cold sores while keeping lips moist and plump."
BODY
Atopalm Moisturizing Body Lotion
| | |
| --- | --- |
| | A lightweight, quickly absorbed, formula for dry, sensitive and eczema-prone skin, this ultra-nourishing blend features olive and grape seed oils blended with Vitamin E. The fast-absorbing, non-greasy formula leaves skin glowing, energized and visibly hydrated. |
---
Essentials Oils: Providing a
Beauty Elixir for Everyone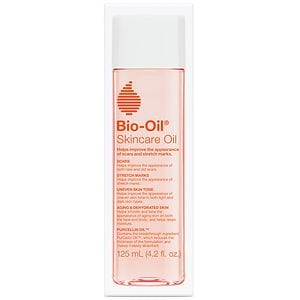 Whether it is your face, body, or even your hair, Bio-Oil, enriched with vitamins and natural oils, can give you a solution to any beauty dilemma! Check out our favorite ways for incorporating Bio-Oil into any beauty routine:

Body:
Reduce the appearance of SCARS AND STRETCH MARKS.

Banish DRY SKIN with the breakthrough ingredient PurCellin Oil(tm), which creates a thin, non-greasy, protective layer over the skin to prevent dryness and guard against moisture loss.

Nourish AGING SKIN with the combination of vitamins A and E, Calendula, Lavender and Rosemary oils, and Chamomile extract.
Face:
Hair:
PROTECT HAIR FROM CHLORINE by applying before taking a swim.

Reduce an ITCHY AND FLAKY SCALP with a simple drop.

Tame pesky fly-aways, a great option for use as a HAIR SERUM.

Bonus: Bio-Oil can also help heal a bad burn from your curling iron.
---
Get the Star Treatment at Home!
One of the many perks of being a celebrity is receiving the newest and most effective treatments. The latest? An apple a day to keep the derm away! Sonya Dakar, a skin guru for Hollywood's biggest stars (can you say Gwyneth Paltrow, Drew Barrymore, Fergie), gives her clients the ultimate in anti-aging -- the Apple Stem Cell Facial.
The treatment is s
aid to restore youth by regenerating your skin's cells with the help of the rare Swiss apple and can cost up to $450 per visit, but now you can get the star treatment at home with Eclos Uttwiler Spätlauber apple stem cell technology!
The Eclos line contains Malus Domestica Fruit Cell Culture (apple stem cells) as well as an enriched PhytoPlex24, a complex of plant extracts, vitamins, and anti-oxidants clinically proven to significantly reduce wrinkles and improve skin texture in just 2 weeks.
Complete with a Facial Cleanser Skin Prep, Cellular Activator Face Serum, Moisture Therapy Regenerative Cream, Restorative Eye Cream, Instant Radiance Facial Scrub, and Skin Renewal Clay Mask,Eclos anti-aging rejuvenation is an easy step-by-step system designed to recapture skin's youth and radiance.
---
Halloween Accessories
It's that time of year, ghosts and goblins abound as we head into Halloween! Check out these festive and fun options! From the traditional orange and black to skulls and daggers, these pieces will keep you "Halloween chic" all October long!
Lavish by Tricia Milaneze
Hanes Silk Reflections Tights to go with any costume!
---
UNJUNK HALLOWEEN
NEW UNREAL CANDY: ALL TREATS, NO TRICKS
Created by a candy loving, 15-year-old boy upset by his parents when he awoke to find they had confiscated half of his Halloween loot a couple of years ago, UNREAL delivers candy with less sugar, more protein and more fiber. Unlike typical candy bars, UNREAL candies can proudly claim:
No corn syrup
No hydrogenated oil
No artificial flavors
No GMO's
No synthetic colors
Responsibly sourced ingredients, including:
Finally, parents can feel good about what they pass out on Halloween, and still be the cool house on the block. UNREAL™ is on a candy coated mission to unjunk the world™, starting with the biggest candy holiday of the year. Introducing five NEW better-for-you candies:
UNREAL™ 41: Candy Coated Chocolates
UNREAL™ 54:Candy Coated Chocolates with Peanuts
UNREAL™ 5:Chocolate Caramel Nougat Bar
UNREAL™ 8: Chocolate Caramel Peanut Nougat Bar
UNREAL™ 77: Peanut Butter Cups
UNREAL™ candies don't just have a nice looking ingredient list, they taste great. A food revolution has been born! Ask TomBrady, Giselle or Matt Damon – just some of the unreal people that are passionate about this Mission to Unjunk Junk Food.
UNREAL candies taste great and are offered at the same price as typical candy bars. Available at major retailers, nationwide, including CVS, Kroger, Staples, BJ's Wholesale Clubs and many others, UNREAL prices range from $.89 to $1.29 for individual bars and $4.99 for the family sized bags
---
tarte Halloween Sale!
Receive 20% OFF your order at tarte.com! Use code TREAT at checkout. Offer expires October 21st.
Also, free shipping on orders over $40!! Stock up now on your favorites at tarte!
| | | | |
| --- | --- | --- | --- |
| maracuja miracle foundation 12-hour foundation broad spectrum SPF 15 sunscreen | glamazon pure performance 12-hour lipstick | call of the wild Amazonian clay 8-shadow collector's palette | Amazonian clay shimmering powder |
| | | | |
---
Fall Beauty from Avon
Avon's new fall collection, Femme Fatale, that I would love to share with you. The collection is full of the rich bordeaux, blues, purples, and fuchsias that were all over Fall's runways!
The Femme Fatale collection includes:
True Color Eyeshadow Quads in Attraction and Femme Fatale, $9.00
Nailwear Pro+ Nail Enamel in Inky Blue, Red Reveal, Midnight Green, and Plum Seduction, $6.00
Ultra Color Rich Lipstick in Plum Seduction, Hot and Spicy, Red Reveal, and Show Some Skin, $7.00
The fabulous folks at Avon sent us this collection, and I can honestly say I am in love with femme fatale! The nail color is rich, vibrant and very long wearing. The eye shadows are absolutely exquisite and the lipcolor is perfect for daywear as well as into the evening.
---
AVON: Michelle Dockery's Look at The Emmy's!
I am a die-hard Downton Abbey fan, so when I saw how gorgeous Michelle Dockery (Lady Mary Crawley) looked at the Emmy's I was dying to find out who her stylist was. Celebrity stylist Jonathan Hanousek worked with Michelle Dockery, prepping her for The Emmy's red carpet today in Hollywood.
"The Inspiration for Michelle's look today was French Modern and Romantic. We wanted easy elegance. Texture was key for this softer top knot, we didn't want it to feel stiff or fussy," said Jonathan.
To create the look Jonathan prepped the hair with Avon's Advance Techniques 360 Nourishment Moroccan Argan Oil Leave In Treatment, concentrating on the ends. Then, he rough dried the hair to create lift. Next, Jonathan misted 1" sections with Avon's Advance Techniques Medium Hold Hair Spray and curled the hair using a 3/4" curling iron on high heat, alternating the direction forward and back. Then, he broke up the hair with a wide-toothed comb. Then he took a couple pumps of The Advance Techniques 360 Nourishment Moroccan Argan Oil and pulled it through the hair to smooth and create separation. Next, he drew the hair up into a pony tail and fastened with an elastic band. He then shaped the hairline by gently pulling pieces of hair from the ponytail. Misting the hair with Advance Techniques Medium Hold Hair Spray, he raked the fingers up towards the pony to add texture and smooth excessive fly aways. He backcombed the pony, and twisted and wrapped into a bun. The bun was fuzzy and a little undone. Finally, he fastened with pins and locked the style into place with a few more shots of Advance Techniques Medium Hold Hair Spray.
| | |
| --- | --- |
| Avon Advance Techniques 360 Nourishment Moroccan Argan Oil Leave In Treatment ($12) | Avon Advance Techniques Medium Hold Hairspray ($8) |
| | |
---
Glow With Grapefruit
What's the secret to keeping hair and skin naturally glowing? Grapefruit!
Pucker up your morning routine and get glowing with grapefruit! Nature's Gate offers an easy way to give your hair and skin the TLC it needs with the beauty benefits from super ingredient, Grapefruit. This popular citrus fruit is known for being a great source of anti-oxidants and Vitamin C.
Nature's Gate Grapefruit and Wild Ginger Shampoo and Conditioner (SRP $7.99) are perfect to give color-treated hair a boost and help to fight against the environmental stresses. The high-level of fruit-based antioxidants make this shampoo and conditioner duo perfect for healthy, smooth hair. Nature's Gate products are available at health and natural food stores or by visiting www.natures-gate.com.
---
---
WARM & DRY: Item of the Week
Mad Bomber available at MadBomber.com
Ilse Jacobsen – Hornbaek available at SplendidAvenue.com
Additional warm & dry styles include Daniel Green faux suede and fur slippers... ($45)
Available at DanielGreen.com
...and colorblock "tech" gloves designed to work with touch-screen devices by Verloop ($65)
Available at Verloopknits.com
---
Join Zohba for Yoga in the Square
When: Saturday, Oct 20th from 9-10 am
Yoga: 9 -10 am
10 am – 12 pm: Attendees head across the street to the Zobha store for shopping, refreshments, and goodie bags. 15% of proceeds from sales through noon will be donated to KIDDO!
Address: Plaza park, between Throckmorton Ave, Miller Ave, and Sunnyside Ave (across the street from Zobha store at 30 Miller Ave.), near the depot, Mill Valley, CA
Partner: KIDDO! – A program that raises money to supplement Mill Valley's limited school budgets by making vital programs – including art, music, drama, poetry, dance, and technology – available to every child in Mill Valley's K-8 schools
Yoga Instructor: Susan Houser of Red Dragon Yoga; she is a prominent yoga instructor in Mill Valley
---
Lucky is hosting its ninth annual LUCKY SHOPS event November 1st – 3rd in NYC with a VIP charity event on November 1st – hosted by Grammy® Award-winning recording artist, Jennifer Hudson
Check out a sampling of the fabulous products available!
Foley + Corinna Suede Mini

Retail: $250

LUCKY SHOPS: $95

*This dusk mini is one of the season's hottest trends, similar to Pantone's Rhapsody color

Amrita Singh

*A statement necklace isn't just a fad, it's a signature accessory that every woman needs in her fashion repertoire

*Better yet, this "bright chartreuse" color was another one noted by Pantone for a color to watch out for in Fall 2012

Chic Tweak

*Scarves are the perfect accessory to add a pop of color to a neutral (or not-so-innovative) outfit

*This scarf combines multiple colors from Pantone's Fall 2012 color list, including "tangerine tango" and "pink flambé"

Sole Society's Valentina Boots

*Boots are a must-have for fall but a stacked wedge makes them easy to dress up for a night out or a casual dinner

*This "French roast" color is just another on Pantone's list of Fall 2012 colors
VIP charity Shopping Party Hosted by JENNIFER HUDSON, Thursday, November 1, 6PM - 9PM, $150 in advance, $155 at the door.
FIRST DIBS FRIDAY: November 2, 10AM – 7PM, $35 in advance, $40 at the door.
FRIDAY GENERAL ADMISSION: November 2, 12PM - 7PM, $30 in advance, $35 at the door.
SUPER SHOPPER SATURDAY: November 3, 10AM - 5PM, $30 in advance, $35 at the door.
SATURDAY GENERAL ADMISSIONS: November 3, 12PM - 5PM, $35 in advance, $40 at the door.
DOUBLE DEALS 2-DAY PASS: Friday, November 2, 12PM-7PM and Saturday, November 3, 12PM-5PM, $50 in advance, $55 at the door.
---
Don't miss the Ask She She Blog!
This is where She She Girls go to find the latest styles and the hottest trends; where your fashion, beauty and lifestyle questions are answered, and the thoughts, ideas and comments of all She She Girls are encouraged and welcomed!