If you are having trouble viewing this email please visit http://www.shesheme.com/prego1.htm Please remember to add shesheme@shesheme.com to your Address Book to ensure that you receive emails to your inbox.
Best of Spring Style
This month is all about renewal and rebirth — vibrant green leaves appearing on the branches of winter dormant trees, fragrant flowers blossoming in gardens and window boxes, bees buzzing, birds twittering, and warmer, sunnier days (which is what moms everywhere have been anxiously awaiting for the past several wet and weary months). Although my little darlings and I have had a fantastic time crafting, baking and bonding indoors we are more than ready to move our adventures outside.
Was at the park this past week with my little angels and actually had a few minutes to sit on the shady park bench and daydream while my kids built sand cities in the sandbox. Was happily planning out my final spring wardrobe acquisitions: adorable cami, sweet skinny jeans — which can take me from spring right into summer. There is nothing quite like the perfect pair of jeans, so versatile and so very necessary. Oops, where was I? Oh yes, spring wardrobe daydreaming. To continue: A fabulous pair of sandals to pull the look together and a spiffy straw tote. Oh, and must keep an eye out for a really unique necklace.
So warmer weather is finally here and those long, lazy days stretch out in front of us. Make the most of the great weather and plan some fun mommy-and-me activities. And to help you stay stylish while doing so, we offer the following ideas for the Best of Spring Style:
Casual Chic:
Face it. You will most likely end up with Juicy Juice on your Juicy Couture so choose machine washables here. (That doesn't mean you are limited to basic jeans and tees however!)
Lunch with the Girls Chic:
This usually goes one of two ways. Scenario One: Not a babysitter to be found, so you and your girlfriends end up at Chuck E. Cheese with the tots in tow. (In that case refer to the guidelines for Playtime at the Park above.) Scenario Two: You are all lucky enough to get babysitters and you can actually have an honest-to-goodness lunch with the girls. The perfect opportunity to don your sweetest summer frock and make the most of this lovely afternoon (it doesn't happen too often now does it?)
A sassy sundress is always a good look for lunch. Be the envy of the ladies who lunch in this gorgeous floral print sundress from Rachel Roy. Just love the way it floats around my legs and makes me feel so girly. Wear it with a great pair of chunky sandals, a gorgeous necklace and a funky little handbag and you are good to go!
A flirty, feminine skirt and skinny top would also look fabulous. There is nothing like a great skirt to make you feel more like a hot mama and less like an exhausted mommy! Especially when worn with this beyond gorgeous wedges. A pair of fun earrings and a fun satchel will complete the ensemble.
If you just aren't in the skirt and dress mood, a lovely pair of tailored capris or crisp twill crops and a colorful peasant top would fit the bill quite nicely indeed. The loose flowy style is très flattering, can cover a multitude of sins, and there are so many darling styles available in all price ranges. Complete your stylish ensemble with a pair of sassy slide and a hot mama handbag.
Goodies for the Kiddies
Ugly Dolls. They are so adorable! Especially for your little guy. In fact, my husband is the one who discovered these fabulous little furries, and he thought they were so great that he actually got a key chain for himself, to match the little critter that he got for our son. (So of course I snapped up a purple key chain to match the little scrammy that I got for my little princess!) So many varieties and so darn cute!
This beyond adorable pirate apron! My son is soooo into pirates, and this is perfect for keeping his clothing clean while fingerpainting, creating with Play-Doh, helping make cookies, and even eating dinner.
My littlest angel just loves this fairy princess castle tent. In fact, it's the only way I can get her to take a nap anymore!
Just Gotta Have It
Just for me, my favorite spring scent from CLEAN perfume — CLEAN Provence: Reminiscent of pure soap and water, freshly laundered linen, and open blue skies. The perfect anytime scent.
M·A·C Chenman Love and Water: East meets West. A sensual colour collection created in collaboration with Beijing-born fashion photographer, Chen Man, inspired by her infatuation with love and water, yin and yang, pink and blue.
FABULOUS new shoe styles at Sole Society! My favorite new not-so-guilty pleasure! And no more monthly fees! Buy what you want when you want — gotta love it!
Well, dearest girls, this should keep you sassy, stylish and totally fabulous throughout the spring and right into summer!
Pretty Mama
---
---
Mustela 9 Months Stretch Marks Intensive Action
Intensive zone care Special treatment to minimize existing stretch marks during pregnancy or after birth.
Helps reduce size, depth and color of stretch marks.
Helps remodel skin support fibers (collagen and elastin) which have been affected by tissue distension, with the Elastoregulator®,Lupeol and a stimulating peptide.
Actively stimulates the skin cells and favors tissue regeneration, with AHA, silicium and vitamin B5.
Hypoallergenic - specially formulated to minimize the risks of allergic reactions.
May be used during breast-feeding (follow proper hygiene rules before breast feeding).
Compatible with sonograms.
Tested clinically under gynecological control.
FREE of parabens, pthalates, phenoxyethenol, alcohol and essential oils
Product Tip:
For stretch marks which appear at the beginning of pregnancy and have become white, you can visibly reduce them using Stretch Marks Intensive Action.
---
2chic™ Brazilian Keratin & Argan Oil Ultra-Sleek Leave-In Conditioning & Styling Elixir
NEW from Giovanni Cosmetics
Finally a styling product that is actually good for hair. Giovanni Cosmetics' NEW2chic™ Brazilian Keratin & Argan Oil Ultra-Sleek Leave-In Conditioning & Styling Elixir is a leave-in treatment also made for styling. Twice the benefit in one product is 2chic™.
2chic™ Brazilian Keratin & Argan Oil Ultra-Sleek Leave-In Conditioning & Styling Elixir seals the deal, protecting hair from the elements as it locks in glossy radiance. Even blow dryer and flat iron heat is no match for its powers. This penetrating 2-in-1 treatment and styling serum shields hair from the elements (even styling heat) then locks in sleek texture, unbelievable softness and shine. To be 2chic™: Take a trip. Distribute evenly through damp hair. Delight in magnificently sleek, super-soft, shiny tresses.
Key Benefits
Smooth & style every strand
Seduce with softness & shine
Banish frizz
Defend against split ends
Safe for color treated hair
For all hair types
Eco Chic Technology™
100% Vegetarian Ingredients / No Animal Testing
Phyto-Keratin is a plant-sourced protein
NO phthalates / artificial fragrance / dyes / sulfates / parabens / PEGs
2chic™ Brazilian Keratin & Argan Oil Ultra-Sleek Leave-In Conditioning & Styling Elixir MSRP $8.99 available at Target March 2012.
---
Brighten your Skin with Obagi!
It started with BB Creams, and now Asian beauty trends are taking over the beauty counters here in the US. The latest craze: brightening products. Say goodbye to the days of consumers scrambling to look as bronze as Giselle or dare we even say, Snooki.
Porcelain is the new complexion must have, and Obagi has long been the US golden standard for brightening products. The New York Times says, "The look of an extra-pale complexion is spawning products being touted as brighteners and lighteners to help erase acne scarring, fade dark spots and give aging skin a youthful glow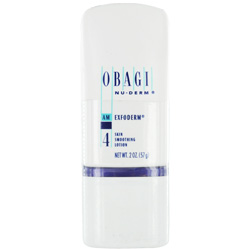 ."

To revitalize complexion, Obagi Nu-Derm Exfoderm uses plant acids to remove old skin cells while promoting new skin cells for a lighter, brighter complexion. To remove stubborn spots and melasma, try Obagi Nu-Derm Clear. The Nu-Derm Clear topical prescription treatment includes 4% hydroquinone to correct hyperpigmentation and improve and even skin tone. Hydroquinone targets hyperpigmented regions of the skin and optimizes the penetration of active ingredients for a firm, healthy glow.

For a younger complexion that needs a brightening boost, try Obagi CRx C-Clarifying Serum. This seru
m contains 4% hydroquinone and L-ascorbic acid to penetrate the dermal layers to reduce melanosome activity while promoting more even skin tone and providing potent antioxidant therapy. Continue treating your skin overnight with Obagi-C Rx System C-Therapy Night Cream. This cream reduces irregular melanosome activity while providing potent antioxidant therapy with Vitamins C and E so you can wake up fresh faced.
---
Achieve Gorgeous Hair with
Philip Kinglsey Elasticizer
Winter weather has dulled your hair and spring is the perfect time to get your hair in shape with the Philip Kingsley Elasticizer. Without altering your shampoo and conditioner routine, apply the Philip Kingsley Elasticizer, a pre shampoo to your locks. This formula delivers a rush of moisture inside the hair's cuticle, acting as an intensive mask that delivers elasticity and bounce to the hair.
Philip Kingsley Elasticizer Key Features
Natural castor oil and olive oil lock in moisture for bounce and shine
Silicones smooth and add shine
Elastin gives hair strength and elasticity
Glycerine and Glycol increase moisture retention
Suitable for all hair types
How to Use the Philip Kingsley Elasticizer
For best results use regularly
Before shampooing, dampen your hair and apply Elasticizer in sections and work into hair with fingertips
Rinse well and follow with appropriate shampoo and conditioner
For fine and medium textured hair, apply sparingly through your mid lengths and ends
For coarse, wavy, curly or frizzy hair use more generously through your hair's length
For unprocessed hair
For processed hair
For fine and medium textured hair, use once a week

For coarse, wavy, curly or frizzy hair, use twice a week
D

o not use Elasticizer for three days before and three days after chemical processing
---
The Seaweed Bath Co. Wildly Natural Seaweed Body Cream
The Seaweed Bath Co. Wildly Natural Seaweed Body Cream combines the beneficial properties of seaweed extract with moisturizing ingredients to create a luxurious moisturizer that helps to soothe and nourish dry skin. Made from kukui oil from Hawaii, a powerful natural moisturizer, and argan oil from Morocco, which is rich in vitamin and essential fatty acids. Made with 100% natural ingredients, paraben, dye, sulfate and gluten free.
| | | |
| --- | --- | --- |
| Wildly Natural Seaweed Body Cream - Citrus Scent | Wildly Natural Seaweed Body Cream - Lavender | Wildly Natural Seaweed Body Cream - Eucalyptus/Peppermint |
| | | |
---
Smooth 'N Shine

Olive & Tea Tree RevivOil Treatment Oil
This new lightweight reviving treatment oil adds nourishment and moisture to hair without weighing it down. Dry locks are left looking and feeling strengthened, stimulated and more manageable.
More than a serum, this treatment oil weightlessly penetrates hair to protect and stimulate as it locks in moisture. It's instantly absorbed by hair to strengthen, smooth and tame strands. With a non-greasy, non-heavy feel, this oil provides lightweight care with the perfect balance of tea tree oils.
---
World's Most Fantastic Craft Blog:
The Sassy Pepper
Be sure to check out The Sassy Pepper Blog! Created by the amazing team of Pepper and Sassy, two very stylish young mommies with amazing abilities in regard to all things DIY, the Sassy Pepper Blog is filled with wonderful ideas for creating, decorating and repurposing to make your life easier, your little darlings more adorable and your home more stylish. From making homemade oreo cookies and building a dream bed for your toddler, to tips on how to throw a Wizard of Oz birthday party or the perfect baby shower, you're sure to be as amazed and thrilled by the ideas in this blog as me!
Check it out today — you'll thank me tomorrow!
Check out the latest tutorial — how to make this gorgeous ruffled pillow!
---
Check Ot the Ask She She Blog
The Ask She She Blog, where She She Girls go to find the latest styles and the hottest trends; where your fashion, beauty and lifestyle questions are answered, and the thoughts, ideas and comments of all She She Girls are encouraged and welcomed!