Featuring The Sassy Pepper
Chic Summer Style
for Moms and Tots
I was at the park this past week with my little angels and actually had a few minutes to sit on the shady park bench and daydream while my kids built sand cities in the sandbox. Was happily planning out my final summer wardrobe acquisitions: urban chic floral silk top paired with versatile cargo pants — the thing I love about cargo pants is that they can be dressed up or dressed down depending upon the occasion. So really, you get a lot of bang for your buck with a good pair (don't go cheap!) The ones I have my eye on will be perfect for summer barbecues when paired with a feminine cotton top and wedge sandals, but can still make the cut for a night out on the town by pairing them with a delicate watercolor silk top and a pair of sexy skyscrapers. Voila! But I digress… where was I? Oh yes, summer wardrobe daydreaming. To continue: Fabulous wedge sandals to pull the look together and a spiffy straw tote. Oh, and must keep an eye out for a really unique necklace. Suddenly my pleasant reverie was interrupted by a pair of whiny, snarky voices at the other end of the bench:
"Oh my goodness," one of them said. "Just look at those two over there, playing in the mud. What on earth is their silly mother thinking? Those outfits will have to be thrown away, they are so unbelievably filthy!"
I looked around to see where these filthy mud-wrestling children were and realized that little Miss Snark Face was referring to my little darlings!
"I just don't understand some people," replied her equally snide friend. "How can they allow their children to get so dirty? Don't they realize how upsetting it is to other people, especially those of us who actually care how our children look, to see such revolting behavior? I will never allow my little Arabella to play in the sand! Just the thought of her getting dirt on her little Burberry sundress makes me cringe." And at that, she actually shuddered.
I glanced back at my two little civil engineers, one (wearing a darling little lobster tee) cheerfully packing sand into a bucket, the other (in her pretty floral sundress) poking twigs into the top of a mound of sand, both just as happy as could be, completely engrossed in their creations (and not even remotely dirty mind you.) OK, so they had a little sand on them, but nothing a quick brush down wouldn't take care of. I bristled (as I usually do when someone has the audacity to criticize my little darlings) and turned to comment to the two Joan Crawford wannabe's. Then I noticed their teeny, tiny babies in their über-chic prams (neither child more than a couple of months old) and thought to myself, "Just wait till little Arabella up-ends her bowl of spaghetti all over her Burberry sundress! That will definitely be a Kodak moment." And I calmly (and somewhat smugly) returned to my shopping reverie secure in the fact that no mother has ever succeeded in keeping her child out of the park sandbox.
So summertime is finally here and those long, lazy days stretch out in front of us. Make the most of the great weather and plan some fun mommy-and-me activities. And to help you stay stylish while doing so, we offer the following ideas on How to be a Chic Mom:
Playtime at the Park Chic:
Face it. You will most likely end up with Juicy Juice on your Juicy Couture so choose machine washables here. (That doesn't mean you are limited to basic jeans and tees however!)
Lunch with the Girls Chic:
This usually goes one of two ways. Scenario One: Not a babysitter to be found, so you and your girlfriends end up at Chuck E. Cheese with the tots in tow. (In that case refer to the guidelines for Playtime at the Park above.) Scenario Two: You are all lucky enough to get babysitters and you can actually have an honest-to-goodness lunch with the girls. The perfect opportunity to don your most stylish summer frock and make the most of this lovely afternoon (it doesn't happen too often now does it?)
A chic sundress is always a good look and you'll be the envy of the ladies who lunch. Just love the way it floats around my legs and makes me feel so girly. Wear it with a great pair of strappy sandals, a gorgeous necklace and a classy little handbag and you are good to go!
A flirty, feminine skirt and slim fit top would also look fabulous. There is nothing like a great skirt to make you feel more like a hot mama and less like an exhausted mommy! Especially when worn with this beyond gorgeous stacked-heel sandal. A pair of funky earrings and a fabu handbag will complete the ensemble.
If you just aren't in the skirt and dress mood, a lovely pair of tailored linen crops or stretch twill capris and a drapey top would fit the bill quite nicely indeed. The loose and floaty ballerina style is très flattering, can cover a multitude of sins, and can make the move from day to night with equal ease. Complete your stylish ensemble with a pair of gorgeous woven wedges and a haute summer handbag.
World's Most Fantastic Craft Blog: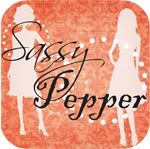 You have got to check out The Sassy Pepper Blog! Created by the amazing team of Pepper and Sassy, two very stylish young mommies with amazing abilities in regard to all things DIY, the Sassy Pepper Blog is filled with wonderful ideas for creating, decorating and repurposing to make your life easier, your little darlings more adorable and your home more stylish. From making sweet sundresses out of men's shirts to creating an orchid terrarium or making personalized thank you notes, your sure to be as amazed and thrilled by the ideas in this blog as me! Become a fan of The Sassy Pepper on Facebook for an opportunity to win products from The Lily Pad! Check it out today — you'll thank me tomorrow!
Well, dearest girls, this should keep you sassy, stylish and totally fabulous throughout the summer!
Pretty Mama
P.S. Be sure to check out the Home Page for updates from She She Me. Also, check out our all new Hot Products in the She She Mall. We are also adding New Stores each week so check back often for updates and fantastic savings! Also, don't miss the great girly merchandise in our Chic Shop.
---
Life Factory
At Lifefactory we call ourselves safe.simple.smart. Our environmentally friendly and health conscious products were created to provide consumers a choice in safe and well designed essentials for babies and adults. We fuse modern sensibility, eco-friendly composition, and exceptional utility to produce glass baby bottles, glass beverage bottles, and teethers that are free of known harmful chemicals including BPA, phthalates, and PVC.
SAFE. At Lifefactory, safety is our #1 concern. All of our products go through rigorous testing and score well above the industry standard for chemical content and durability. Our bottles and accessories are free of known harmful chemicals including bisphenol-A (BPA), phthalates, and polyvinyl chloride (PVC). All components are FDA approved and made with medical grade silicone. We are EN 71, EN 14350, and CPSIA (HR 4040) compliant.
SIMPLE: Lifefactory's sleek modern designs give our products a sophisticated look that appeals to everyone. All products are easy to clean and are dishwasher safe.
SMART: Our long-term future is determined by how we treat the earth now. We use glass and silica- low impact raw materials. We keep our packaging to a minimum to leave less of a footprint on our precious earth. Lifefactory is proud to be recognized as a Bay Area Green Business.
Lifefactory's glass baby bottles are bisphenol-A (BPA), phthalate, and polyvinyl chloride (PVC) free

Each kit includes 2- 9oz bottles with stage 2 nipples, 2- 4oz bottles with stage 1 nipples, 2 pack of stage 2 nipples, 2 pack solid caps for storage

Lifefactory's innovative non-toxic Multi-Sensory Silicone Teether is soft, lightweight and easy for little fingers to hold.

BPA, phthalate, PVC, and latex free.
Can be worn as a bracelet so it is always close by and can be refrigerated or frozen to soothe aching gums.
Available in 3 colors: raspberry, yellow, sky
---
Le Baby Hair Gel
Moms and babies share a lot of things: Naptimes, laughs, snacks, DNA and even a body at one point! Now they can add hair products to the list. Of course mom's like to have their own hair essentials, but when it comes to saving space in the diaper bag, dual products can make a world of difference. Le Baby Hair Gel is a hypoallergenic hair gel designed especially for babies, kids and anyone with sensitive skin. For mommies, it's great for quick hair touch-ups and smoothing away frizz. For babies, the gentle formula is perfect for thickening fine hair and taming post-nap fly-aways. Read on below to learn more about this spring's must-have beauty essential for stylish moms and tots.
Le Baby Hair Gel is made especially for babies,
kids and anyone with sensitive skin.

Hypoallergenic

No harsh chemicals

No parabens

No sulfates
Not tested on animals

Fragrance-free

Thickens baby-fine hair

Tames frizzies and fly-aways

Moisturizes

Softly holds curls

Keeps hairstyles in place

Never leaves hair stiff or sticky

Rinses easily
---
Toms Shoes
Celebrate Spring in style with the latest from Toms Shoes. Toms makes comfortable and stylish eco-friendly shoes for men, women, kids and even tiny tots! The ultimate feel good purchase: For every pair purchased, TOMS gives a pair of new shoes to a child in need. One for One.
| | | |
| --- | --- | --- |
| Silver Glitter TOMS | Silver Glitter Youth TOMS | Silver Glitter Mary Jane Tiny TOMS |
| | | |
---
Give and Take Tees
Right and Wrong Collection
GIVE AND TAKE, known for their vintage-inspired graphic tees that benefit charities across the nation, highlights the fundamentals of childhood learning by expanding their cheeky Right & Wrong collection with three new designs titled Behave, Polite, and Healthy. The shirts are inspired by beloved children's author Munro Leaf depicting famous sayings and images from his classic books and will raise funds for SOS Community Services.
Munro's extremely popular books How to Behave and Why and Manners Can Be Fun speak to both children and adults in humorous ways, touching on invaluable life lessons. His simple but important mottos are accompanied by charming drawings and have a strong celebrity fan base, like Julia Roberts, seen in the picture below reading the well-known book Reading Can Be Fun.
The latest additions to the GIVE AND TAKE collection continue to teach Leaf's rules of thoughtfulness and etiquette, with sayings like, "You have to be honest, you have to be fair" and "I dance lightly, I sing loudly," accompanied by his signature adorable sketches. The shirts are available in fun, bright colors and retail for $50.
---
Wallaroo Hats
Children don't always understand the importance of proper sun protection. Teach them to wear a hat now an they will learn a valuable, life-saving habit. And, thanks to Wallaroo, they'll look cute, too! Look for our sun icon throughout the site to determine which hats are UPF 50+. These fabrics are tested by the Australian Radiation Protection Agency and block 97.5% of the sun's ultraviolet rays. Ultraviolet radiation, or UV, is present in sunlight. The Ultraviolet Protection Factor (UPF) shows how well a fabric protects your skin from solar UV. But remember, a Wallaroo hat only protects the skin it covers. Safeguard the rest of your body by wearing sunglasses and sunscreen.
| | | | | |
| --- | --- | --- | --- | --- |
| Jumbuck | Lorikeet | Surf Hat | Matilda | Platypus |
| | | | | |
---
Check Out the Ask She She Blog
The Ask She She Blog, where She She Girls go to find the latest styles and the hottest trends; where your fashion, beauty and lifestyle questions are answered, and the thoughts, ideas and comments of all She She Girls are encouraged and welcomed!